How To Prepare Your Fireplace For Winter: 10 Important Tips
10/5/2020 (Permalink)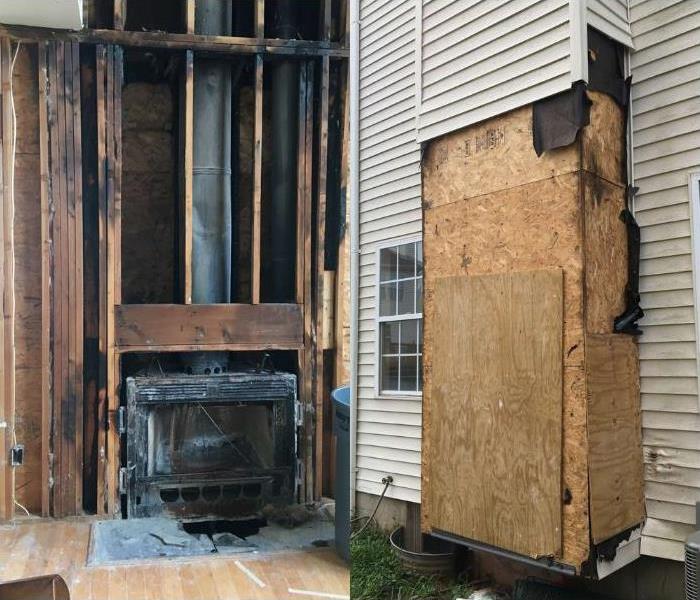 This house suffered from a chimney fire that did damage to both the interior and exterior of the Fairfield home.
Heading into the cooler weather season, many homeowners with fireplaces are excited to get it fired up and running. But before you jump right in, there are some fireplace maintenance steps to take in order to prepare to use your fireplace during a cold New England weather.
How To Get Your Fireplace Ready For Winter
1 | Be sure your chimney is cleaned before lighting a fire.
Wood burning fireplaces get a buildup of creosote and soot over time. Contacting a certified chimney sweep will ensure that your chimney is clear and clean. Creosote buildup can cause a house fire from embers flying upward into debris and catching.
2 | Check for damages.
Inspect the fireplace inside your home as well as the chimney on the outside. The chimney sweep should be able to check the chimney for any cracks, missing or loose bricks, and ensure the chimney liner is not deteriorated.
3 | Inspect for any debris.
Make sure that there are no birds nests, birds, squirrels, rodents, or other things blocking a clear path out of the chimney.
4 | Make sure to cap your chimney.
Along with checking other aspects of your fireplace system, be sure that you have an undamaged cap with wire mesh sides covering the chimney. Caps ensure that rain, birds, squirrels, and debris do not enter your home through the top of the chimney.
5 | Check that the damper is working properly.
A damper is in the flue of your chimney, which is where the smoke escapes to when you have a fire lit in the firebox. The damper helps to control that ventilation and allows you to open and close the flue, acting as a lid. Check if you are able to open and close it easily.
6 | Test your alarms.
Fireplaces give off carbon monoxide as they burn - which is usually not a problem when the ventilation system of the fireplace is working properly. You should have carbon monoxide detectors in your home to pick up on the odorless and extremely dangerous buildup of this gas.
Fireplace Safety Tips
1 | Use a guard or door when a fire is lit. Spark guards and doors stop embers from shooting out of the fireplace and will help to prevent a house fire.
2 | Make sure that you are burning dry and seasoned wood. Softer woods produce more creosote and will cause it to build up faster in the chimney.
3 | Know how to correctly build a fire. Don't use flammable liquids to start it and set it up in the back of the firebox, not towards the front opening.
4 | Clear the area in front of the fireplace. There are times of year that decorations are fine to have in front of a fireplace, but when you begin to use it be sure to move them away.
Enjoying your fireplace safely all winter long should be no problem when following these safety and maintenance tips.
SERVPRO of Westport/Fairfield is a 24/7 damage restoration company specializing in fire, water, mold and COVID-19 services. Whatever the damage, we will work to make it "Like it never even happened." Call us at 203-707-1952!