What Does Water Damage Look Like?
7/20/2020 (Permalink)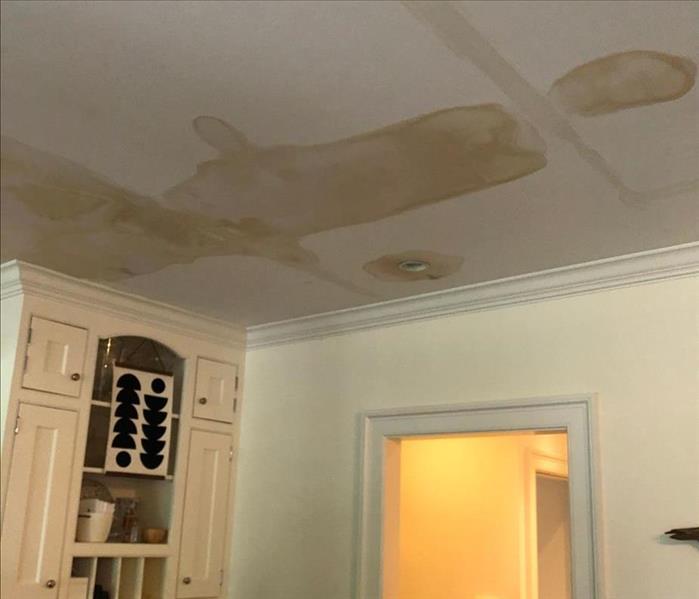 This water damaged ceiling was due to a pipe breaking in the attic of this home, requiring extensive cleanup by SERVPRO of Westport/Fairfield.
Have you ever had a small discoloration on your ceiling grow over time, eventually prompting you to look up "ceiling stains cause"? Chances are you're not alone - and you're not the only one who didn't realize they had growing water damage on their ceiling!
How Do You Know If You Have Water Damage?
Water damage is much more common than you think. According to iii.org, about 1 in 50 insured homes file an insurance claim due to water damage every year!
So - how do you know if you have water damage, especially if it's so common? One of the most effective ways is to be familiar with the signs of water damage so that you can address the issues before they get worse and require you to call in a professional for water damage restoration.
Signs of Water Damage:
Brown spots or water stains on ceilings or walls. This discoloration is a huge sign that there may be a water leak behind the wall or in the ceiling. This is usually an early sign, and should be investigated as soon as possible.
Bubbling or chipping paint. Bubbling latex paint can have water built up underneath it, waiting to burst and pour it all out.
Musty odors. Musty odors are usually a sign that there is moisture in your home some place it should not be. Musty odors are also an indicator of mold growth.
Higher than normal water bills. This can help tip you off that there is a water leak somewhere in your home. When you have an unexpectedly high bill, inspect your home for these other signs of water damage to find if you have hidden leak.
Growth of mold and mildew. Mold can begin to grow in as little as 48 hours after a water leak or flooding. When water damage goes unaddressed, mold can end up being an indicator of t he problem and require extensive mold remediation.
Soft floors, walls, or ceilings. When you find spongy areas in your home, they're likely completely saturated with water.
Wet areas around your home. This sign is the most obvious - but if you ignore it, the damages will stack up.
What Causes Water Damage?
Like the signs of water damage, there are numerous (and what feels like infinite) causes of water damage.
Leaking or burst pipes. Pipes may leak or break because of old age, changes in water pressure, or due to freezing in the winter.
Roof leaks. Summer storms can rip off the shingles from your roof and ice dams in the winter can cause water to begin pouring into your home. Either way, a leaky roof can cause serious damage to the entirety of your home.
HVAC units. This cause of water damage is much more common in the summer when ACs are high in use. Condensing units or pumps many times stop working and depending on its location, can flood your entire basement or require extensive ceiling repairs when in your attic.
Plumbing issues. These types of issues are usually "hidden", meaning it's hard to tell that something is wrong until there are water stains on ceilings or walls. Toilet backups, shower valve leaks, leaks under sinks, or leaking toilets can all cause damage to your home.
Worn or old household appliances. Our office receives a large amount of water damage calls that result from refrigerator ice lines leaking or failing, washing machines or water heaters letting go, or dishwashers letting out all their water on to hardwood floors. Have your appliances checked or maintenanced about every 7-10 years to avoid these causes of water damage.
Flooding or storms. Large flooding events can cause a huge amount of water damage to your home that cannot be handled yourself.
What Should You Do Next?
If you've discovered water damage in your home, there are a few different routes you can take to clean up & repair it.
Option 1: DIY
For smaller water damage issues, you may be interested in doing the cleanup & repairs yourself. For example, if you had a small sink link that caused slight discoloration to the ceiling below, but you know that the source of the water is fixed and that it is not wet, you can handle it yourself. In these cases, you can usually just paint over the water stains with the correct type of paint.
Option 2: Call in the professionals & file an insurance claim
If your damage is any more than what was detailed under "DIY" route, it's probably best to call a water damage company to help you with the cleanup and repairs. Restoration companies have a system to ensure that your property is completely and property dried out after water damage - something that may not be guaranteed by doing it yourself!
Have Questions or Need Help? Call SERVPRO of Westport/Fairfield Today! 203-707-1952
SERVPRO of Westport/Fairfield provides 24/7 damage restoration emergency service. We work with your insurance company, help you file your claim, and provide free estimates for out-of-pocket work. We're Here to Help make it "Like it never even happened."