What Is An Ice Dam? | Removal & Prevention Tips
11/30/2020 (Permalink)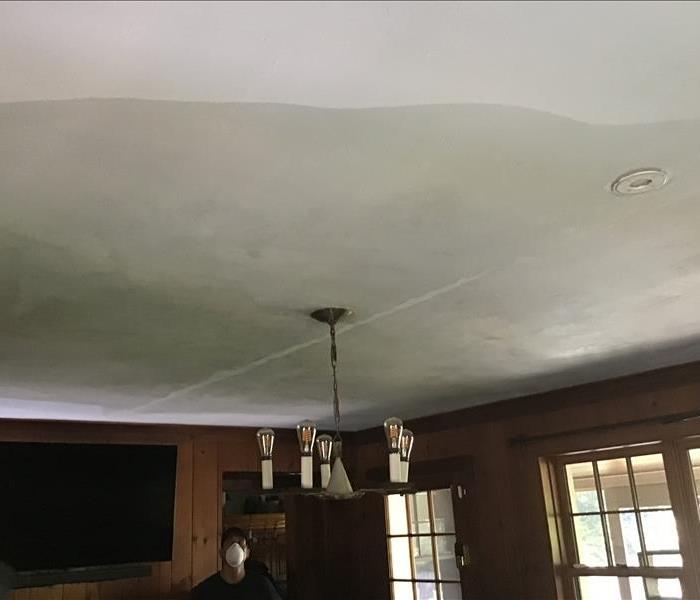 An ice dam can cause major water damage to the ceilings and walls of your home - causing staining and bubbling.
The formation of ice dams on your roof during the winter season can cause a considerable amount of damage to your home. Taking the proper steps to prevent them before they start is the best line of defense for areas that get a considerable amount of snow and cold weather every year.
What Are Ice Dams?
At first glance, ice dams look like nothing more than large icicles hanging from the eaves of your roof. While they form similarly to icicles, they can cause thousands in damages.
An ice dam is a result of snow that melts and refreezes again at the eaves of the roof. This cycle continues so long as the dam is not removed and will cause it to build up over time, making it harder for melted snow to drip from the roof and contributes to the dam's growth.
Ice dams form because of warm roofs. If the your attic space is warm, the heat transfers to the underside of the roof which causes snow to melt. As it flows down the roof the melted snow refreezes when it reaches the overhang as it isn't warmed from the attic. This creates a large mass of ice at the edge of the roof, which can also spread to the soffit vents and gutters. If the attic is any warmer than freezing - you can end up dealing with an ice dam.
Ice dams (like icicles) can be dangerous for your family and pets. When warm enough weather comes through for the dam to melt, it can come crashing down without notice.
How Do They Damage Your Home?
Ice dams damage your home in multiple ways. As dams build up over time, they can cause damage to the roof from the weight of the ice. As it melts, water then seeps between shingles and refreezes, expanding and loosing the shingles of the roof. When the shingles are loose, it allows the melted snow and ice to penetrate the lower level of the roof and begin to seep into the interior of your home.
In short, ice dams cause roof leaks and eventually cause water damage to ceilings and walls in your living space. When not caught, water damage may cause structural deterioration and produce mold growth when moisture is consistently present. Waiting for warm weather is not a solution for ice dams - As they can continue to cause damage to your home even after they are gone.
Ice Dam Prevention Tips
Remove snow with a roof rake. If your home is usually prone to forming ice dams, you can prevent them before they start by removing all snow from the roof so it has no chance to melt and turn into ice.
Roof heat cables. These can be attached to your roof before winter weather hits in a zig-zag formation to keep the exterior of it warm and prevent snow or ice from freezing to it. Sometimes these do not warm enough to prevent ice dams from forming - and in some cases may help them form by continually melting ice and snow.
Eliminate attic heat sources. Sometimes lights, uninsulated HVAC systems, or vents from dryers or kitchen exhaust fans can send enough heat into the attic to warm the roof.
Properly insulate and vent your attic to keep it cold. Doing this will ensure that there is no heat loss from the living space of your home into the attic - keeping it as cool as outside and prevents conditions for ice dams to form. Take the following steps to properly keep your attic cool during the winter:

Ventilation: If possible, install vents at the soffit and at the ridge of the roof that provides air flow between the actual roof and the insulation. This will keep the immediate underside of the roof cool even if the attic takes up some heat from your living space.
Insulation: If you have an open attic, you should properly insulate the floor of the attic and seal all air leaks from the main living space. If it is a finished room that has the roof directly above it, be sure that the rafter spaces above the ceilings are properly insulated. These methods will prevent the heat from the living space from rising it up and warming the roof.
There are many recommendations on how to prevent ice dams, but the most effective, long term way to get rid of ice dams forever will be to ensure your home has proper attic ventilation and insulation.
Removing Ice Dams
You may find many different methods for ice dam removal online, but many of them can cause damage to your roof or even put you in danger. Using salt to melt the dam or chipping off the ice can cause even more damage to your roof than the ice dam itself. What should you do?
Hire a professional for proper ice dam removal.
Ice dam removal companies use specialized equipment to get the job done without damaging the shingles of your roof. Most companies use a high temperature, low pressure steam machine to melt the ice right off your roof.
Using other methods such as a power washer or manually chipping ice off yourself will surely damage or rip shingles right off your roof, and end up requiring even more work and money to remedy.
Need Help With An Ice Dam? Call SERVPRO - 203-707-1952
SERVPRO of Westport/Fairfield is a 24/7 damage restoration company specializing in fire, water, mold and COVID-19 services. Make damage "Like it never even happened."