Understanding SERVPRO's Specialized Equipment
10/21/2020 (Permalink)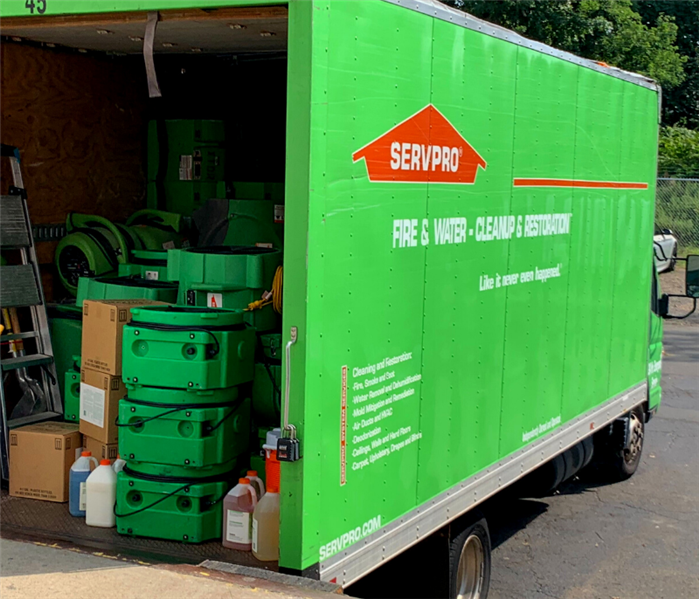 SERVPRO of Westport/Fairfield's use of advanced equipment helps restore your property efficiently and properly.
SERVPRO of Westport/Fairfield understands that using the correct equipment is highly important to ensure damages are mitigated in a timely and efficient manner when it comes to water damage.
Every piece of equipment that we use has a specific function to help dry and restore your home to preloss conditions. Using the proper equipment can even make a measurable difference in reducing claims loss expense. With that said, here we will review our most commonly used equipment and their functions.
Detection Equipment
When a Project Manager arrives on site, they will perform a scope which involves identifying what areas of your structure are affected by water and to what extent they have absorbed moisture.
Detection equipment is also used during and at the end of the restoration process to monitor the drying process and ensure no moisture remains. The scope of work on your property will largely be determined using our advanced detection equipment:
Moisture Sensors are used to detect moisture in carpets, baseboards and walls.
Moisture Meters are used to determine the actual moisture content of various materials.
Thermohygrometers measure both temperature and relative humidity.
Extraction Equipment
Whether you have standing water or a saturated carpet, our advanced extraction equipment is the most effective method of removing moisture from a structure. When SERVPRO is dispatched quickly and water is extracted before it can absorb into any materials, the structure can usually be dried much faster as our equipment removes much of the moisture.
Extractors can be either truck mounted for major flooding or portable for smaller water losses. These are used in cleaning carpets and upholstery and to remove water from floors following water damage or flooding.
Air Moving Equipment
Air movers are used throughout the drying process to enhance the rate of evaporation at the surface level of wet materials, in turn reducing the time it requires to dry. As the surface level of materials begin to dry, the moisture level of the air then increases.
This increase in moisture can be problematic if other proper equipment is not set by producing mold growth - but SERVPRO professionals are always sure to set dehumidifiers in addition to air movers to offset this process.
Dehumidification Equipment
Dehumidifiers extract water vapor and moisture in the air and then discharge warm, dry air. This process lowers the relative humidity of the area, and the dry air absorbs remaining moisture from wet materials.
When used in conjunction with air movers, they cut the time needed for the drying process down significantly and help create a cycle that continues until no moisture remains.
Deodorizing Equipment
When it comes to water damage or flooding events, things can get a bit smelly. When this happens, SERVPRO of Westport/Fairfield has a few different pieces of equipment to neutralize odors and help prevent them from coming back:
Ultra Low Volume Foggers: atomize liquid deodorizing agents and produce a fine mist that easily penetrates sites where odor-causing residues accumulate. The device can also be used to inject fungicides and disinfectants into wall cavities and other difficult-to-access areas.
Thermal Foggers: dispense solvent-based products in a dense fog suitable for confined areas. The fog consists of tiny particles of deodorant solution that pair with and neutralize odor-causing particles.
Ozone Machines: These generate ozone gas to remove indoor pollutants or odors. These must be used in closed areas with no people or pets present for health and safety reasons.
Need Immediate Assistance? Call SERVPRO of Westport/Fairfield - 203-707-1952