Answering All Your Questions About Water Damage Restoration
10/26/2020 (Permalink)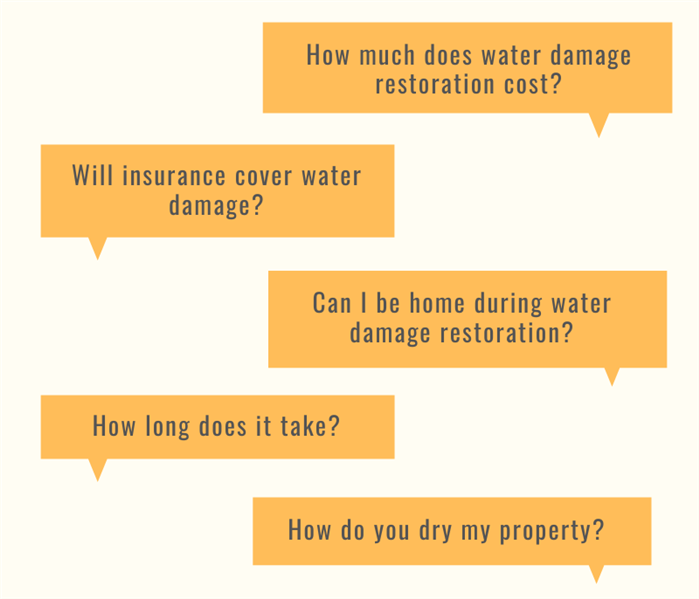 Get the answers to all your water damage restoration questions here, or give us a call and speak with a representative.
When a water disaster strikes your home and requires water damage restoration services by the SERVPRO of Westport/Fairfield team, you're likely to have a lot of questions surrounding the process. SERVPRO Professionals are Here to Help 24/7, 365 days a year and are prepared to answer all of your water-damage related questions.
6 Frequently Ask Questions From Fairfield Property Owners About Water Damage Restoration
How much does water damage restoration cost?
The cost of restoring your home or business is dependent on many factors, so it is hard to make a generalization of cost. Factors that affect cost are:
Size of area affected
Type of material affected
Amount of water
Category of water (Category 1, 2 or 3)
Amount of equipment needed
Need for mold or asbestos testing
Whether or not there is a need for demolition
Because of the wide price range for water damage restoration services (average $1,000-$10,000), SERVPRO of Westport/Fairfield provides free damage restoration estimates to all customers before the start of work.
Will insurance cover water damage?
Like most questions on whether or not insurance will cover a claim, the answer is: it depends. When it comes to water claims, it depends what the source of your damage was and whether or not it was sudden and unforeseen or if it was something that could have been prevented with regular maintenance.
Covered water damage scenario: Your water heater suddenly bursts in the middle of the night and completely floods your finished basement. It was not already leaking and there was nothing you could do to prevent it from happening.
Claim denied water damage scenario: Your basement floods, but your sump pump was unplugged from when you were cleaning. Unfortunately, you would be seen as at fault for the damages.
Can I be at home during the water damage restoration process?
Once again, the answer is 'it depends'. Many times homeowners are able to stay in their homes with no issues during the water damage restoration process. This is usually in cases where water damage or flooding was contained to a certain part of the house.
There are sometimes cases where customers cannot stay in the homes during the process, but it is usually when there is a major flooding event that requires that we pack-out everything from your home and perform extensive demolition. Hopefully this will not be the case for you.
How do you dry my property?
SERVPRO of Westport/Fairfield follows a specifically water damage restoration process every time, starting with a free inspection of your damages. We will handle everything from moving furniture, performing any needed demolition, and can even bring in our in-house construction team to rebuild your property.
While every water damage event is different, below is an outline of our drying process:
How long does water damage restoration take?
After all water is removed from your property and demolition is completed, the drying equipment that is set up will have to sit for on average 3 days to completely dry a structure. This means that smaller losses can be completed in as little as three days, but larger projects may take a week or two due to other work that may need to be completed. Your Project Manager will inform you of the process and how long it will take.
Will mold always grow after water damage?
Mold can begin to grow in as little as 48 hours after flooding or water damage - but this doesn't mean it has to. If you call your local water damage restoration company as soon as you find your damages, you should be able to prevent mold growth. This is because the company will be able to quickly remove moisture from the structure and create an environment where mold doesn't like to grow.
Have Questions or Need Help with Water Damage Restoration in Connecticut? Call SERVPRO 24/7 - 203-707-1952