What Causes Electrical Fires? Signs & Prevention
11/24/2020 (Permalink)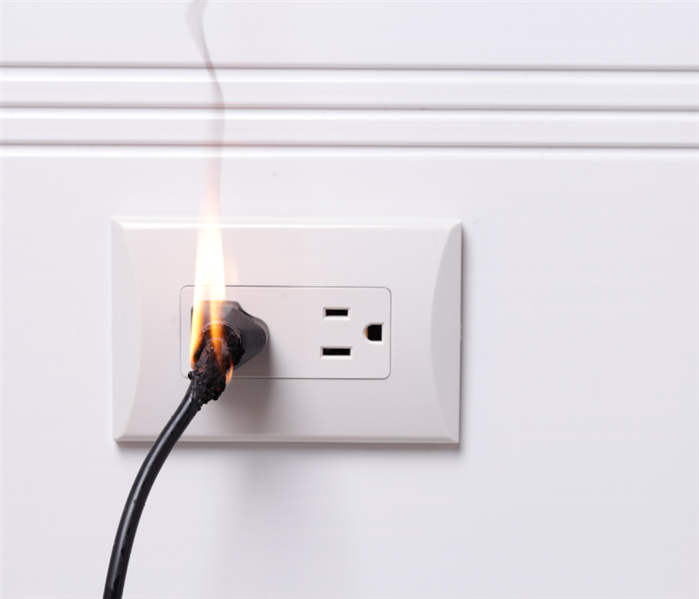 With the long list of items that use electricity in our homes, it can cause us to forget they can pose significant risk for an electrical fire.
Home electrical fires count for roughly 51,000 fires each year, and can pose a significant risk to your home. But how do electrical fires start? Are there any signs in order to help prevent them? Here, we will provide you with everything you need to know about electrical fires to help prevent them in your home.
Top Causes of Electrical Fires
The top causes of these fires are:
Faulty outlets or switches
Light fixtures
Extension cords
Space heaters
Older appliances
Outdated or faulty wiring
Overloading electric system
1 - Faulty outlets or switches
Over time, the wiring behind electrical outlets or switches begins to wear and loosen. The outlet itself may loosen over time. If wires loosen enough, they could break and cause a fire.
2 - Light fixtures
Many people put the wrong wattage light bulb for their light fixtures, putting it at a risk of an electrical fire. You should check the maximum wattage for all light fixtures before choosing lightbulbs, not passing that amount.
3 - Extension cords
Extension cords are safe to use, but when they're used improperly they can cause issues for your home. Never do the following with extension cords to avoid a fire:
Run it under a carpet
Use old or damaged cords
Use extension cords all the time
Use extension cords for major appliances
4 - Space heaters
When placed too close to flammable materials, electric space heaters are at a huge risk of starting a fire. Be sure to keep space heaters away from any other items and don't use them while you're not home or asleep.
5 - Older appliances
Also a leading cause of restaurant fires, worn out or older appliances draw a lot of power that the old wiring inside of it may not be able to handle. Many times, these wires may also become old or worn which increases the likelihood of an electrical fire. Its best to replace appliances when electrical wiring cannot be updated.
6 - Outdated or faulty wiring
Older wiring tends to heat up more than newer wiring, which puts it at a higher risk of fire to start. When this is coupled with all the different electrical appliances we now have in our homes such as computers, gaming systems, large TVs or air conditioners, the wiring may not be able to handle it all.
7 - Overloading the electric system
When too many devices are plugged into your electrical system, needing more power than the system can produce, the electrical system can catch on fire. Be sure to not plug too many things into one outlet or power strip at once and unplug appliances you aren't using to lower the stress on your system.
Warning Signs of An Electrical Fire
When you identify any of these signs, you should call an electrician to come and inspect as soon as possible.
Burning smells. This can be a sign that the electrical wiring is damaged, very hot, or melting.
Circuit breaker tripping often. The circuit breaker will shut off the power in your home when it is overloaded, and isn't abnormal to happen once in a while. But, if starts happening regularly, there's something wrong that needs attention.
Sparking. If anytime you plug something in there's sparks - that's a sign of an electrical issue.
Warm outlets. Outlets are not supposed to be warm.
Discoloration on outlets. This means that the wiring behind the outlet is producing too much heat and is causing charring while something is plugged in.
Flickering of the lights. This could be an indication of faulty wiring that can cause major problems down the line.
Preventing Electrical Fires in Your Home
You can prevent these fires by practicing proper electrical safety and fixing any issues as they come up. You should avoid the common causes of electrical fires that we outlined earlier. But, as a reminder, you should do the following:
Don't overload power strips or outlets
Don't run extension cords under carpets
Call an electrician if you notice signs of electrical issues
Don't use frayed or broken extension cords, power strips, outlets, or appliances
Only utilize extension cords for temporary use
Install smoke detectors to catch fires before they spread
Keep flammable items or materials away from outlets or space heaters
Pay attention to wattage requirements