Tips For Choosing A COVID-19 Disinfection Service
11/3/2020 (Permalink)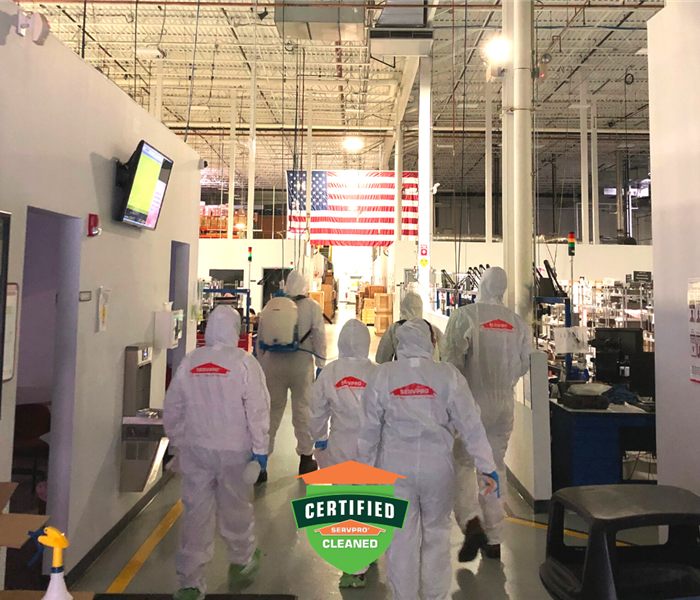 Looking for the right company to provide disinfection services for your business? Don't hire one without reading these tips.
Coronavirus, the virus that causes COVID-19, has undoubtedly impacted businesses all across the United States and here in Connecticut. Many of these businesses have utilized coronavirus disinfection services to help keep their employees & customers healthy and feeling secure.
But how do you go about choosing a coronavirus disinfection service for routine cleaning? How do you know a company actually knows what they're doing?
Here, we have created a list of tips to help you choose a reputable coronavirus cleaning service during the pandemic in Connecticut.
Tips For Choosing the Right COVID-19 Disinfection Company in Connecticut
1 - Choose a company with demonstrated experience with biological contaminants
You should choose a company that is trained and certified in handling biological contaminants and can provide that certification for you. With so many businesses looking for cleaning and disinfection services, there are likely companies that are not highly qualified offering these services because they're currently high in demand. Reputable companies will have these qualifications and training advertised on their websites or brochures. If a company will not provide what kind of qualifications they have, they are likely not the right company for your needs.
2 - Is the company following CDC guidelines?
A trustworthy company will be following the recommended guidelines set forth by the CDC (Centers For Disease Control), WHO (World Health Organization), along with other experts in the field. Their cleaning program should be in line with these recommendations and be up to date with any new information regarding the virus. If their disinfection program is not guided by the CDC, look for a program that is.
3 - Is the company using disinfection chemicals on the EPA registered disinfectant list?
The EPA has compiled List N: Disinfectants For Coronavirus. All the products on this list are hospital grade disinfectants that are approved for SARS CoV-2 when used according to the label's directions. Only the disinfectant products on this list are approved for use against COVID-19.
Do NOT use a company that claims that they have different chemicals that will have the same effect. A reputable disinfection service will be able to provide what type of chemicals they will be using along with the SDS (Safety Data Sheet) at your request.
4 - Choose a company that is using the proper equipment
Proper disinfection methods will require the proper equipment. Be sure to choose a company that uses equipment like electrostatic sprayers and personal protective equipment (PPE). These are signs that companies are investing in their disinfection services and demonstrating they are taking CDC and EPA guidance seriously.
5 - Choose a company that creates flexible disinfection plans
Not every business is the same and every building is different. Disinfection for the coronavirus is not a one-size solution. A disinfection program should be based around your industry, business type, size of the space, number of high-touch points, foot traffic, congestion points, how many people are in the building, and how people move about. All of these things can impact routine cleanings in your facility, as well as creating a plan for emergency disinfection when needed.
Don't use a company that just tried to sell you a coronavirus disinfection service. Choose a company that sits down, asks you questions, and inspects your building before providing you with their plan. An expert disinfection company should be able to provide you with varying levels of disinfection based on different situations that may occur. Ideally, a reputable company will act almost as a consultant before doing any cleaning.
6 - Has the company provided services to any other businesses in the area?
Before using a service, its always a good idea to research reviews and experiences others have had with that company. As a business, you want to choose a disinfection service that can cater to your needs. Currently, some companies are specializing in residential disinfection, which can be extremely different from commercial disinfection services. Before choosing a service, look to see who businesses similar to yours have hired for cleaning services. If you have a large warehouse, you would be best serviced by a disinfection company that has already provided a similar scale of services.
7 - Compare the cost of services across different companies
If you come across a company providing coronavirus disinfection services for a price extremely lower than their competitors, this may not be a good thing. The chemicals, PPE, equipment, and training that goes into a disinfection service is a large cost for the service provider. Someone offering these services at an extremely low cost may be cutting corners - possibly not using EPA registered disinfectants or will not provide a high standard of cleaning.
Of course, this doesn't mean that the company that charges the most for their services is the best one to choose. Simply, you should take the cost of the service in consideration with the rest of your research on the company before making a decision.
Choosing A Coronavirus Disinfection Service in Connecticut
SERVPRO of Westport/Fairfield meets all of the above tips for coronavirus disinfection services in Connecticut.
As IICRC Certified Biohazard Specialists, our team is highly trained and qualified to properly perform disinfection services for your business. In fact, SERVPRO has been providing biohazard denomination services for the last 50 years, so you can be sure we have the knowledge and experience needed to provide the service that you need.
Certified: SERVPRO Cleaned
Certified: SERVPRO Cleaned is a defensive, proactive viral pathogen cleaning program backed by our more than 50 years of experience in cleanup and restoration. With an industry-leading, proprietary training program, cleaning solutions, and remediation processes, we're helping businesses across the country stay safe.
Consult - A Project Manger will consult with you and create a specialized cleaning program tailored to your needs.
Clean - Our team will provide proactive and COVID-19 emergency response cleanings in accordance with CDC guidelines, using EPA-registered disinfectants.
Certify - We will leave information and flyers behind to inform your employees and customers on how your business has been cleaned by SERVPRO.
Learn more and get a free estimate for our Certified: SERVPRO Cleaned Program.