Flooded Basement Cleanup in Fairfield, CT
1/12/2021 (Permalink)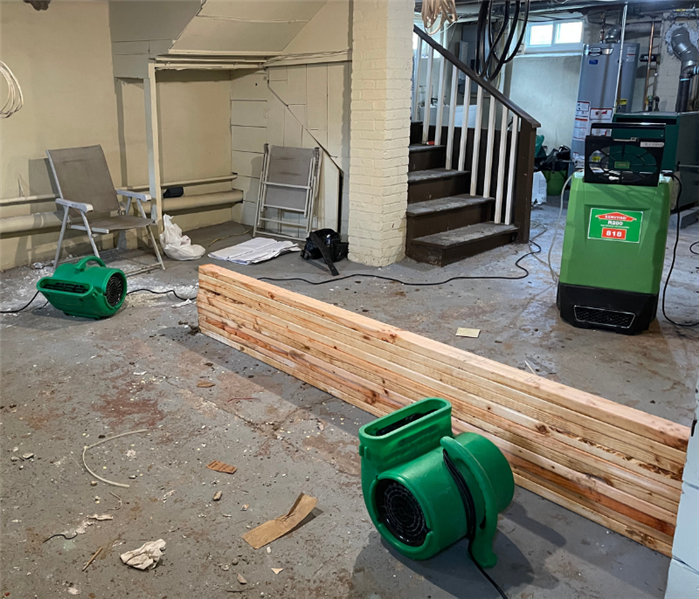 When your Fairfield basement floods, SERVPRO of Westport/Fairfield can provide rapid flooded basement cleanup services.
Many homeowners have had the unfortunate experience of a flooded basement in Fairfield. Basements can flood for numerous reasons, like heavy rains, burst pipes, insufficient drainage around basement walls, failed sump pumps, and more.
Regardless of the source of your flooding, you can call SERVPRO of Westport/Fairfield, your local flooded basement cleanup company for 24/7 emergency services. As water damage restoration specialists, our team is trained to quickly remove flood water and take steps to ensure your basement properly dries.
Flooded Basement Cleanup Services
Our goal is to restore your basement water damage as soon as possible. The quicker you call SERVPRO of Westport/Fairfield for flooded basement cleanup services, the less likely it will be for mold growth or other problems to form.
When you use SERVPRO of Westport/Fairfield for basement flood damage cleanup, you can expect the following:
Rapid Water Removal - When crews arrive on site, they immediately begin removing the water from your basement to prevent structural damage and reduce the likelihood of mold growth.
Basement Drying - Our team will move wet and damaged items out of the affected areas. Once all standing water is extracted, commercial grade fans and dehumidifiers are set up to remove all moisture from the basement. Depending on the extent of your damages and the type of basement, carpet may need to be pulled or walls opened to aid in the drying process.
Cleaning and Sanitizing - Once your basement has been confirmed dry, our team cleans, sanitizes, and disinfects the affected areas with antimicrobial to ensure bacteria and mold spores are not present. If needed, our team will perform mold remediation services as well.
Restoration Services - Our in-house construction team can take over to fully return your basement to pre-damage conditions once all water damage has been addressed.
What To Do Until A Flooded Basement Cleanup Company Arrives
There are a few steps you can take to help prevent further water damage when dealing with a flooded basement:
Be aware of potential safety hazards - Do not enter flood water without the proper protection or if any electrical components are submerged.
Determine the source of your flooding - If it's not clear where the water is coming from, try to figure it out. If coming from a leaking pipe or water line, immediately turn off the main water to prevent further flooding. If caused by an appliance, look up the best way to stop it from leaking until it is repaired. If caused by heavy rains and pressure on basement walls and floors, you'll have to wait until the storm passes to take action.
Call a plumber or HVAC technician as needed - Depending on the source of your basement flooding, you'll need a professional to make repairs. In some cases, the source of water will not stop until fixed.
Call your insurance company - If your damage is caused by a burst pipe, malfunctioning appliance, or a water heater letting go, the flooded basement cleanup should be covered by your homeowner's insurance. Unfortunately, groundwater flooding is usually not covered unless you have additional sump pump or flood insurance.
Try to get up excess water - You can use towels, mops, buckets, or a wet dry vacuum to try and get up some of the standing water in your basement. Focus on preventing water from migrating to areas that have not already been affected to contain damages.
Call Today For A Free Flooded Basement Cleanup Estimate - 203-707-1952