Flooded Basement Cleanup in Fairfield, CT
1/12/2021 (Permalink)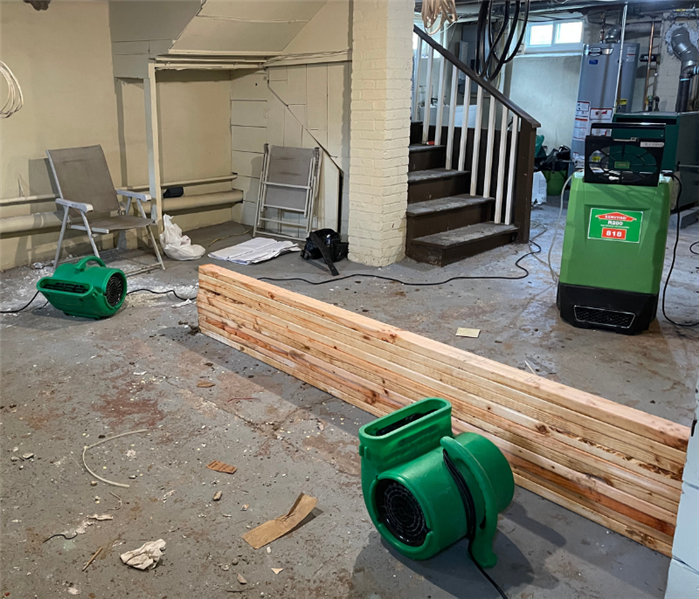 When your Fairfield basement floods, SERVPRO of Westport/Fairfield can provide rapid flooded basement cleanup services near Fairfield.
Flooded Basement Cleanup in Fairfield, CT
Get 24/7 Basement Water Removal in Fairfield Today!
Many homeowners have had the unfortunate experience of a flooded basement in Fairfield. Basements can flood for numerous reasons, like heavy rains, burst pipes, insufficient drainage around basement walls, failed sump pumps, and more.
Regardless of the cause when you need basement flooding cleanup near Fairfield or the surrounding cities, SERVPRO of Westport/Fairfield is Here to Help 24/7!
For Immediate Assistance, Call Our Office 24/7 - 203-707-1952
Flooded Basement Cleanup Services in Fairfield CT
Complete Drying & Dehumidification Services

Advanced Moisture Detection Technology

FREE Cleanup Estimates

Directly Bill Your Insurance Company
When there's water in your basement in Fairfield, SERVPRO of Westport/Fairfield can provide an immediate emergency response. Fast action is essential to prevent further flood damage or the development of mold in your home.
With over 15 years of experience with basement water damage restoration near you, our team has all the knowledge, training, and resources needed to quickly restore your basement to pre-damage conditions.
Our goal is to make your flooded or wet basement "Like it never even happened."
Basement Water Damage Restoration Process
Our Project Manager will create a specialized plan for your basement flooding cleanup in Fairfield, but the general process remains the same.
A Project Manager from SERVPRO of Westport/Fairfield will inspect to determine the scope of your basement water damage in Fairfield and create a cleanup and restoration plan for your property.
Using high powered water extractors and pumps, our team quickly removes standing water in your basement. The faster this step in the cleanup process is completed, the less likely it is for mold to develop.
Using specialized moisture detection technology, our team locates all areas of 'hidden moisture behind walls or underneath flooring. Once all affected areas are identified, we use commercial grade drying equipment to remove all remaining moisture.
Once your basement has been confirmed dry, our team cleans, sanitizes, and disinfects the affected areas with antimicrobial to ensure bacteria and mold spores are not present. If mold is present, our team of mold removal specialists in Fairfield can help.
Our in-house construction team can take over to fully return your basement to pre-damage conditions once all water damage has been addressed.
What To Do Until A Flooded Basement Cleanup Company Arrives
There are a few steps you can take to help prevent further water damage when dealing with a flooded basement:
Be aware of potential safety hazards - Do not enter flood water without the proper protection or if any electrical components are submerged.
Determine the source of your flooding - If it's not clear where the water is coming from, try to figure it out. If coming from a leaking pipe or water line, immediately turn off the main water to prevent further flooding. If caused by a leaking appliance, look up the best way to stop it from leaking until it is repaired. If caused by heavy rains and pressure on basement walls and floors, you'll have to wait until the storm passes to take action.
Call a plumber or HVAC technician as needed - Depending on the source of your basement flooding, you'll need a professional to make repairs. In some cases, the source of water will not stop until fixed.
Call your insurance company - If your damage is caused by a burst pipe, malfunctioning appliance, or a water heater letting go, the flooded basement cleanup should be covered by your homeowner's insurance. Unfortunately, groundwater flooding is usually not covered unless you have additional sump pump or flood insurance.
Try to get up excess water - You can use towels, mops, buckets, or a wet dry vacuum to try and get up some of the standing water in your basement. Focus on preventing water from migrating to areas that have not already been affected to contain damages.
For 24/7 Flooded Basement Cleanup Near Fairfield, Contact Our Office - 203-707-1952