Ice Dam Water Damage Repair in Fairfield, CT
1/13/2021 (Permalink)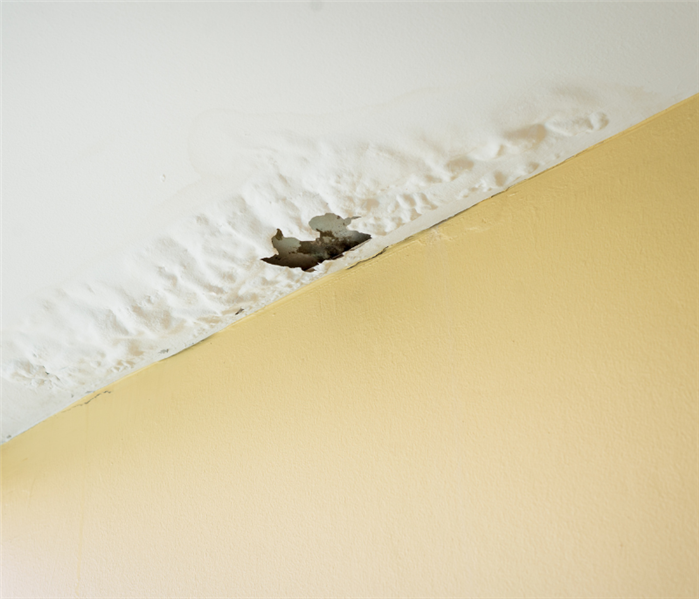 When snow and ice builds up on your Fairfield roof, you may need ice dam water damage repair services sooner than you think.
Fairfield residents are no stranger to cold, snowy, Connecticut winters. But, when ice dams form on your roof, snow and ice can end up leaking into your home. For professional ice dam water damage repair, you can call the water restoration specialists at SERVPRO of Westport/Fairfield for 24/7 emergency services.
Ice Dam Water Damage
If you didn't remove the ice dam on your roof before it began to cause damage, you must take immediate action to prevent further issues. Ice dams can cause:
Damage to your shingles
Damage to your roof
Wet attic and ceiling insulation
Water stains
Water damage to walls, floors, and ceilings
What To Do When You Have An Ice Dam
Call an ice dam removal company - The dam will only continue to cause damage to your Fairfield home until it melts away or is removed. While there are DIY methods for removal, its safest for you and your roof to call a professional.
File an insurance claim - If your home sustained damages from the ice dam, your insurance company will likely cover the repairs. But, they usually do not pay for dam removal.
Call SERVPRO of Westport/Fairfield for ice dam water damage repair - As water damage restorations specialists, our team is properly trained and equipped to return your home to pre-damage conditions as soon as possible.
Learn how to prevent ice dams - If an ice dam forms on your roof once, it's likely to happen again. Consult with a roofing contractor to see how you can prevent warm air from entering your attic space and warming the roof. If you're not ready for roof renovations, make sure to remove snow from the roof to prevent melting snow in the first place.
Ice Dam Water Damage Repair Services
SERVPRO of Westport/Fairfield can quickly take care of the water damage from an ice dam causing roof leaks in your Fairfield home. Our services include:
Emergency Contact - Questions asked by our representatives will include: When did the leak start? Is it still leaking? What areas are affected by water? Is there mold growth? Have you filed an insurance claim? Do you need the ice dam removed?
Rapid Water Cleanup - Once our team arrives on site, they rapidly begin cleaning up any standing water in your home.
Complete Drying Services - Commercial grade fans, dehumidifiers, and floor drying mats are used so that all moisture is removed from building materials.
Demolition - Since ice dams leak through ceilings and behind walls, demolition is likely required to ensure all affected areas are dried out.
Cleaning and Sanitizing - Our team cleans and sanitizes to ensure no dirt, debris, bacteria, or mold spores are left behind.
Restoration - Our construction team takes over to make any needed repairs to your roof, walls, floors, ceilings, or paint as needed.
Need Ice Dam Water Damage Repair in Fairfield? Call SERVPRO For Immediate Assistance!
SERVPRO of Westport/Fairfield accepts all insurance carriers and is open 24/7, 365 days a year to respond to your call. Whatever the disaster, we're ready to make it "Like it never even happened."