Leaking Shower Water Damage Repair in Westport, CT
1/20/2021 (Permalink)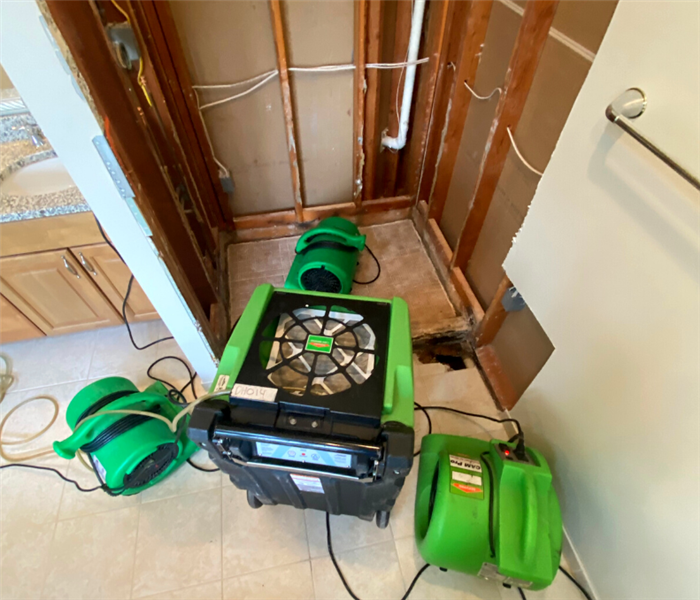 When you discover shower water damage in your Westport home's bathroom, you must act quickly to prevent further damages.
If your shower has a leak, it can cause extensive water damage in your Westport home. Water can seep through walls, floors, and ceilings, affecting multiple spaces in your property. You may notice water stains on ceilings, bubbling paint, or loose shower tiles when your shower has a water leak. When you find signs of water damage from a leaking shower, be sure to take immediate action to prevent further issues.
When you need water damage repair due to a leaking shower, SERVPRO of Westport/Fairfield is Here to Help 24/7, 365 days a year.
24-Hour Emergency Leaking Shower Cleanup
Direct Billing to Your Insurance Company
Advanced Water Inspection, Extraction, and Drying Equipment
Shower Water Damage Repair Services
The damages from a leaky shower must be addressed as soon as possible to prevent further issues in your Westport home. SERVPRO of Westport/Fairfield can immediately respond to your call and begin restoring your home to pre-damage conditions.
When you call SERVPRO of Westport/Fairfield for bathroom shower water damage repair, you can expect the following services:
Emergency Contact - A representative takes down your contact information and asks questions regarding damages. They will ask when the shower leak started, if its actively leaking, what areas have been affected, if there's standing water, if there's any mold, and if you've filed an insurance claim.
Water Cleanup - Any standing water from your leak will be removed using commercial grade water extractors.
Drying Process - Equipment such as air movers and dehumidifiers will be set up in affected areas. Since water leaks are usually located behind shower walls, demolition is likely required to ensure all building materials dry. For shower water damage, this may include removing the tiles, opening up drywall or the ceiling below the bathroom, or removing the shower completely.
Restoration - To ensure a seamless water damage restoration experience, our construction team can take over to make any needed repairs or replacements in your home.
What To Do When Your Shower Is Leaking
There are steps you can take to prevent further water damage when your shower leaks:
Don't use your shower - If you know your shower is leaking behind the wall, you should try to not use it until the leak has been repaired. Clearly, this can be a challenge, but can save your home from costly water damage.
Have it fixed as soon as possible - You want to be able to bathe without the ceiling below your shower leaking. You should call a plumber to find the source of your issue, and repair it. Since shower leaks can cause by shower pans, shower valves, or pipes, a professional is needed to diagnose the problem.
Call your insurance company - Many times, leaking shower water damage repair services can be covered by your homeowner's insurance.
Look out for mold - Depending on when your shower leak started, mold and mildew may have already grown in the walls of your home. Since mold thrives on moisture, it can grow and spread in as little as 48 hours after water damage.
Water Damage From Leaking Shower in Westport? Call SERVPRO - 203-707-1952