Ceiling Water Damage Repair in Fairfield, CT
1/27/2021 (Permalink)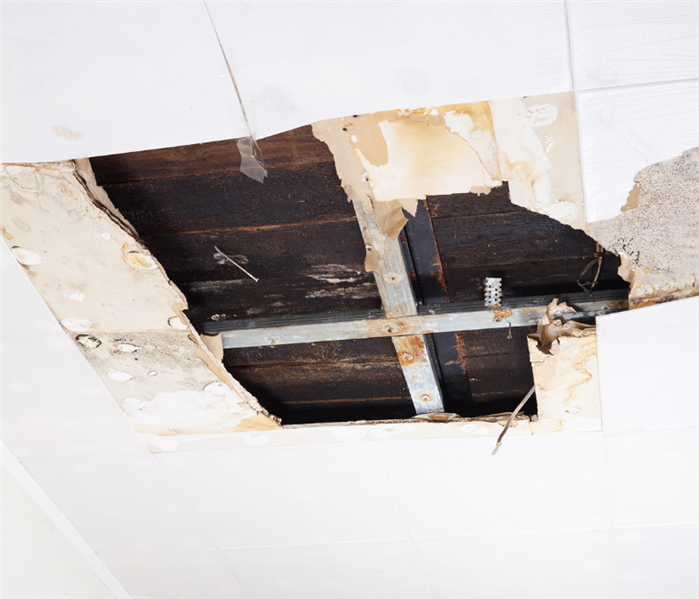 Water leaks can cause serious damage to ceilings, requiring professional ceiling water damage repair services from SERVPRO of Westport/Fairfield.
When your Fairfield home suffers from roof leaks, ice dams, leaking pipes, or ceiling leaks, you may end up with damaged ceilings. Water damage on ceilings may seem cosmetic, but when it goes unaddressed it can cause mold growth, damaged drywall, or even a ceiling collapse.
For ceiling water damage repair in Fairfield, call SERVPRO of Westport/Fairfield for immediate response - 203-707-1952
As water damage restoration specialists, SERVPRO of Westport/Fairfield has the training, experience, and resources needed to provide expert water damage ceiling repair. Our team is on call 24/7 to help with your water disaster in Fairfield.
Ceiling Water Damage Repair Services
When you have water damage to your ceiling, you should address it quickly to prevent further damages to your home. SERVPRO of Westport/Fairfield can provide immediate service when your ceiling is damaged by water leaks.
Emergency Contact and Response
When you call SERVPRO of Westport/Fairfield, a representative takes your information and details of your loss.
When did your damage occur?
What is the source of the leak?
Is the ceiling actively leaking?
What areas have been affected by water?
Have you filed an insurance claim?
Once we have all the needed information, a crew can immediately be dispatched to your home or business to begin cleanup.
Water Cleanup and Extraction
When a team arrives at your property, they immediately begin removing any standing water. This is done using commercial grade water extractors or submersible pumps. The faster the water removal process is completed, the more likely additional damages can be prevented.
Ceiling Drying Services
Once standing water has been cleaned up, your property may seem dry, but upon further inspection walls, floors, ceilings, and other building materials are still saturated. Industrial-grade drying equipment such as air movers and dehumidifiers are set up to remove moisture.
When it comes to ceiling water damage, some ceiling material or pieces of drywall will have to be removed. This is to ensure all building materials dry and no moisture 'hidden' behind walls or ceilings goes unaddressed. Equipment is strategically set to ensure even inside walls and ceilings dry.
Cleaning and Sanitizing
Once your ceiling has been dried out, our team cleans and sanitizes the affected area. Dirt, bacteria, and mold spores are all removed using an antimicrobial spray.
Ceiling Restoration
Once all ceiling water damage repair is complete, we can move on to restoration. Depending on the extent of your damages, only minor repairs like replacing drywall, priming and painting may be needed to restore ceilings to pre-damage conditions. In other cases, major reconstruction may be needed to replace walls, flooring, and more.
SERVPRO of Westport/Fairfield can provide reconstruction and building services after your home suffers from water damaged ceilings. Using one company for the cleanup and restoration company allows a seamless process.
Signs of Ceiling Water Damage
There are many signs of water damage on ceilings that can allow you to catch the problem before it causes structural damage to your Fairfield home. Signs include:
Water stains on ceiling or discoloration

Sagging ceiling

Bubbling paint, possibly full of water

Mold growth on ceiling

Active leak through ceiling
How To Handle A Water Damaged Ceiling
Once you identify signs of ceiling water damage in your Fairfield home or business, you should take immediate action to prevent further damages:
1 - Find the source of water and stop it
You should first try and find the source of water to see if you can stop it. Depending on where the water damaged ceiling is in your home, there are many possible sources of moisture. To find the source of ceiling water damage, look in the following places:
Investigate the room above the affected ceiling. You may be dealing with a leaking toilet, shower, or pipe
If there's no rooms above the affected ceiling, investigate your attic and roof for leaks
If you cannot find the source, it's likely between the ceiling and above floor
2 - Make needed repairs
Depending on what the source of water is, you may need repair your plumbing system, roof, or even appliances.
3 - File an insurance claim
When dealing with ceiling water damage, its best to file an insurance claim. Most causes of ceiling leaks and damage will be covered by your homeowner's insurance policy.
4 - Call a water damage restoration company for ceiling water damage repair
Companies like SERVPRO of Westport/Fairfield make sure to address all areas of moisture or mold growth in your home. While you can perform DIY repairs, not properly drying out your home can lead to structural problems, decay, and mold growth over time. It's best to call a ceiling water damage repair company than handling the cleanup yourself.
Common Questions
Is ceiling water damage covered by insurance?
Depending on the source, the cleanup of these damages are covered. Scenarios that would be covered include:
Damage from leaking bathroom
Damage from leaking appliances
Your ceiling water damage repair will not be covered by insurance when the source has been causing damage for an extended period of time or the source of the damage should've clearly been fixed. An example of this would be allowing your shower to leak into the ceiling below for years, causing it to cave in.
Can you repair ceiling water damage yourself?
Yes, there are many guides to performing DIY water damage repairs. But, you're taking the risk of not addressing all damaged areas in your home, which can result in structural problems, decay of building materials, and mold growth. If your damages are widespread, you should let the professionals handle the repairs.
How can I prevent mold after water damage?
The best way to prevent mold is to quickly address moisture at its source. Mold thrives on moisture, so as long as it is present mold growth is a possibility. You should find the source of water, stop it, and begin the ceiling drying process as soon as possible to prevent mold.
Need Ceiling Water Damage Repair in Fairfield, CT? Call SERVPRO of Westport/Fairfield - 203-707-1952