Frozen and Burst Pipe Damage Restoration in Westport, CT
2/9/2021 (Permalink)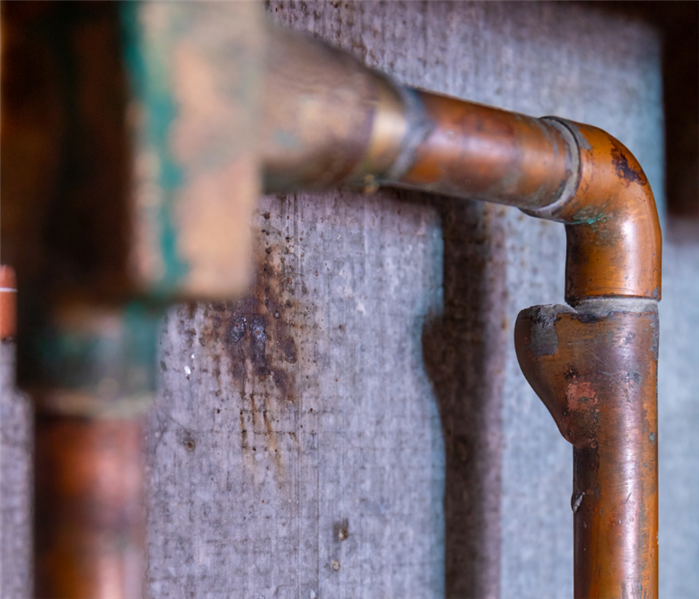 When pipes leak, freeze or burst in your Westport home, SERVPRO of Westport/Fairfield can provide immediate water damage restoration services.
Westport residents expect cold temperatures when winter arrives in Connecticut. But, when temperatures hit single digits, the water in your pipes can freeze, expand and cause the pipe to burst. When not quickly found, a frozen pipe can flood your entire property and cause extensive water damage in Westport.
When Frozen Pipes Burst In Westport, Call SERVPRO of Westport/Fairfield For 24/7 Emergency Water Damage Restoration
As your local water damage restoration company serving Westport and surrounding cities, our team of water damage experts can rapidly respond to your burst pipe call.
SERVPRO of Westport/Fairfield rapidly removes water and begins the drying process in your home or business after a frozen pipe breaks or bursts. Our fast response is essential to prevent mold growth and structural deterioration after water leaks or flooding.
We Handle Insurance

Highly Trained & Certified Burst Pipe Cleanup Specialists

Make Water Damage "Like it never even happened."
What To Do When A Frozen Pipe Bursts
When a pipe freezes in your Westport home, you may hear banging or clanging noises inside of your walls, due to water suddenly expanding into ice. It's possible you may not even hear water flowing when a pipe bursts, as the ice inside of it can prevent the broken pipe from leaking.
If you find a frozen pipe, you should:
Turn off the main water supply. This should be done immediately to prevent extensive damages when the frozen water pipe begins to leak.
Unfreeze the pipe. The best way to unfreeze a pipe is to call a plumber. While there are many DIY methods, it's possible they can still result in the pipe breaking and flooding your home.
If water is actively flowing into your home, you should:
Immediately turn off the main water supply.
Locate the sound of the running water.
Move wet or personal items.
Immediately call SERVPRO of Westport/Fairfield
Causes of Leaking, Frozen, or Burst Pipes
Lack of insulation
Corroded pipes or regular wear and tear over time
Heating system isn't on during cold weather
Pipe is damaged by a contractor
Our Frozen and Burst Pipe Restoration Cleanup Services in Westport
When you call SERVPRO of Westport/Fairfield after a water pipe bursts, we quickly spring into action to provide emergency burst pipe cleanup services. While every water damage cleanup is a unique situation, you can expect the following general cleanup process:
Step 1 - Emergency Contact
When you connect with a SERVPRO representative, they will ask the following questions to ensure our emergency response team is prepared once they arrive on your property:
When did this occur?
What was the source of your flooding?
What areas of your home have been affected by water?
How much standing water is currently in your home?
Is the water source still flowing/Have you turned off the water supply?
Is there any mold growth?
Have you filed an insurance claim?
Step 2 - Water Removal and Extraction
Once crews arrive on site, they will begin to rapidly remove any standing water in your property using commercial grade water extractors. The faster this is started, the more likely it is that building materials like carpeting, floor boards, or drywall can be saved.
Step 3 - Equipment Set Up
Commercial grade drying equipment is set up throughout your home. This may include air movers, dehumidifiers, or floor mats to ensure all affected areas are properly dried. Equipment is not removed until it has been confirmed by a moisture reading that the area is dry.
Step 4 - Demolition (As needed)
In the case of burst pipes, there is likely to be some level of demolition in your home since pipes burst behind walls or ceilings. These areas must be opened up to ensure no moisture is left behind, which could produce mold growth in your home.
Step 5 - Mold Remediation (As needed)
When it comes to water damage, mold growth is always a possibility. Mold may be present in your home if a pipe had a slow water leak before bursting or when damages are not handled right away.
Did you know? Mold can begin to grow in as little as 48 hours after water damage.
Step 6 - Restoration
Once your Project Manager has confirmed your property is dry and the water damage cleanup process complete, restoration can begin. Our in-house construction team can handle any needed painting, drywall replacement, carpet replacement, and more to return your home to pre-damage conditions.
Need Water Damage Restoration For A Leaking, Frozen or Burst Pipe in Westport, Connecticut? Call SERVPRO 24/7 - 203-707-1952