24/7 Flooded Basement Cleanup in Westport, CT
2/16/2021 (Permalink)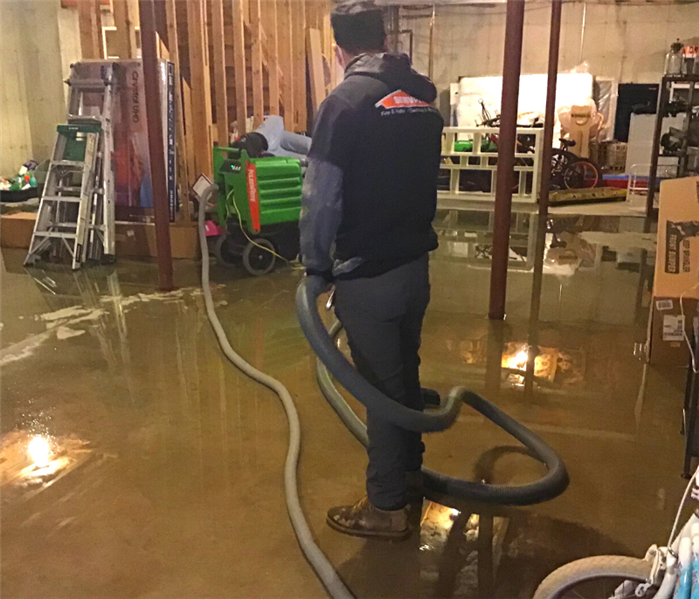 When you're dealing with a flooded basement Westport, SERVPRO of Westport/Fairfield can provide an immediate response.
Get Immediate Services For Basement Flooding Cleanup in Westport!
When you're struggling with a flooded basement in Westport, you want help - and fast. The longer there's standing water in your basement or crawl space, the more likely it is for mold to grow and additional damages to form inside of your home or business.
For immediate assistance with basement water removal near Westport, SERVPRO of Westport/Fairfield is Here to Help 24/7!
Call Us 24/7 For Immediate Assistance - 203-707-1952
Professional Basement Water Damage Restoration Services in Westport
Complete Drying & Dehumidification Services

Advanced Moisture Detection Technology

FREE Cleanup Estimates

Directly Bill Your Insurance Company
With over 15 years of experience in basement water damage restoration near you, SERVPRO of Westport/Fairfield is your local expert for emergency basement water removal in Westport.
Our team of IICRC Certified water damage restoration specialists have all the experience, training, and resources needed to quickly restore your basement to pre-flood conditions.
Our goal is to make your basement flooding in Westport "Like it never even happened."
Flooded Basement Cleanup Process
A Project Manager will inspect your basement water damage and create a unique restoration plan for your home or business. They will inform you of what work needs to be done and how long it will take.
SERVPRO of Westport/Fairfield works quickly to remove standing water from your basement. The faster this process is completed, the more likely it is to prevent further water damage or the growth of mold.
Once all standing water is extracted, commercial grade fans and dehumidifiers are set up to remove all moisture from the basement. Depending on the extent of your damages and the type of basement, carpet may need to be removed or walls opened to aid in the drying process.
Once your basement is dry, our team cleans, sanitizes, and disinfects the affected areas with an antimicrobial to ensure bacteria and mold spores are not present and prevent musty odors. If mold develops, our team of mold removal specialists in Westport can help.
Once the water mitigation process is completed, our team can seamlessly begin the restoration process with our in-house construction division. This may include anything from minor repairs to major renovations and repairs.
What To Do When There's Water in Your Basement
When your basement floods in Westport, take the following steps to help prevent further basement flood damage until help arrives.
1. Find and Stop the Source of Water
The faster you're able to find and stop the source of water that's entering the basement, the more damages you can prevent. Before entering a flooded basement, be sure that there are no electrical or safety hazards.
If flooding is from a water leak or burst pipe, turn the main water supply off. If flooding is caused by heavy rains or natural disasters, do the best you can to contain flood water until the flow stops using buckets, towels, or wet dry vacuums.
2. Move Wet or Valuable Items
If you're able to safely enter your basement, move any wet or valuable items out of the flood water. This will help the basement dry more quickly and save your belongings from extensive water damage.
3. Call A Local Water Damage Restoration Company
As much as you can hope, your basement won't dry itself out and the flood water won't go away on it's own. Calling a flooded basement cleanup company in Westport ensures that all water is removed, helps prevent mold growth, and prevents major structural damages in your home.
Flooded Basement: Frequently Asked Questions
Is basement flooding covered by homeowner's insurance?
Insurance coverage for a flooded basement depends on the source of water. Water in your basement is covered by insurance when: flooding is due to a burst, frozen, or leaking pipe; appliance malfunctions; or flooding due to plumbing issues.
Flooded basements are usually not covered by insurance if caused by groundwater seeping through basement walls or if your sump pump fails. If your basement is prone to flooding, look into additional flood insurance or basement waterproofing methods.
How much does it cost to repair a flooded basement?
If you're not going through insurance, basement water damage restoration can on average cost anywhere from $3,000-$10,000, depending on the amount of water in the basement and what type of materials are affected.
Is a flooded basement dangerous?
A flooded basement in Westport isn't necessarily dangerous - but there are possible safety hazards such as electrical appliances submerged in water, gas leaks, or mold growth that can cause health effects.
For 24/7 Basement Flooding Cleanup Near Westport, Call Today - 203-707-1952