Toilet Overflow Cleanup Services in Westport, CT
3/2/2021 (Permalink)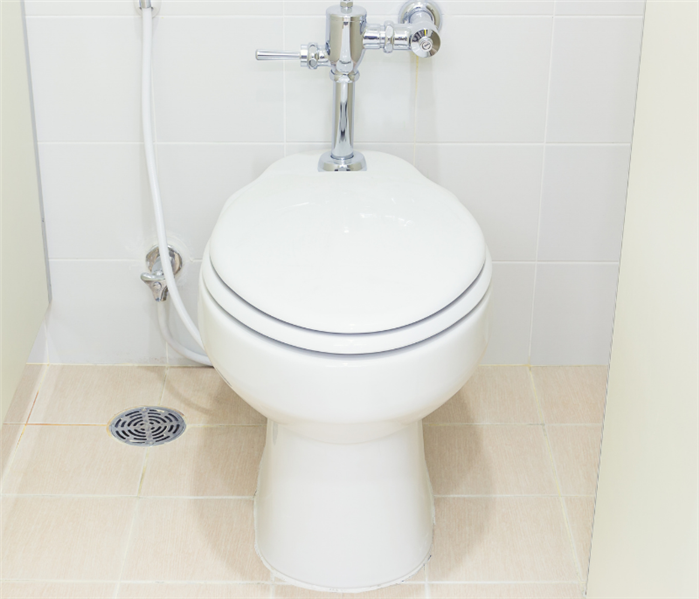 When your toilet overflows in Westport, CT, contaminated water can flood your bathroom and leak to other areas of your home.
When your toilet backs up and overflows, it can create a huge mess in your Westport, CT property. When toilet water damage affects your home or business, you should call a water damage restoration company to handle the contaminated toilet water and sewage cleanup.
SERVPRO of Westport/Fairfield Provides Overflowing Toilet Water Damage Restoration in Westport, CT 24 Hours A Day
The flood damage from a backed-up toilet should be immediately addressed to prevent further water damage or contamination in your Westport property. That's why SERVPRO of Westport/Fairfield responds 24/7 for your toilet overflow cleanup emergency.
What To Do When Your Toilet Overflows
When you take the following steps, it can help minimize the water damage from a toilet overflow.
Stop the Toilet Overflow
Before you can start cleaning up, you need to first stop the overflow. To stop a flooding toilet, try the following:
Remove the toilet tank lid
Push down the flapper valve (rubber flap inside the tank) to stop clean water from filling the toilet bowl
Lift the float to stop the tank fill valve from refilling the toilet tank - This should stop the flooding
If the toilet does not stop, turn off the water supply by turning off the valve behind the toilet on the wall
Clean Up Standing Water
Before you jump into cleaning, you should note what type of water you're dealing with.
Category 1 "Clean Water" - Water from a clean source such as a broken clean water supply line or faucet.
Category 2 "Grey Water" - Water which has a significant level of contamination that could cause discomfort or illness if ingested from sources like washing machines, toilet overflow with some urine but no feces.
Category 3 "Black Water" - This water is grossly unsanitary and could cause severe illness or death if ingested, and any contact should be avoided. Sources include flooding from rivers or streams, water from beyond the toilet trap, water from the toilet bowl with feces, or standing water that has begun to support microbial growth.
If the toilet overflows with clean water, you should immediately grab any towels, rags, or mops to begin cleaning up. Depending on the extent of the flooded toilet water damage, water may seep into the floor and ceiling below, spreading damages around your home. In this case, call SERVPRO of Westport/Fairfield.
Clear the Toilet Clog
Before unclogging the toilet, remove some of the water with a bucket so that while you plunge, water doesn't splash all over you and your bathroom. If unclogging your toilet doesn't stop the overflow, you may actually be dealing with a sewage backup or a clog in a drain pipe or sewer line of your plumbing system. In this case, you will need to call a plumber for assistance.
Clean and Sanitize All Affected Areas
After your toilet overflows, there is likely bacteria and other contaminants in your bathroom. Be sure to wear gloves and other safety materials while sanitizing all affected areas of the bathroom with a mixture of bleach.
When Do You Need To Call A Professional For Toilet Overflow Water Damage Cleanup?
When any of these situations arise, it's in the best interest for your health, safety, and your home to call a professional for flooded toilet cleaning and restoration services.
You're dealing with a toilet sewage backup
There are solids in the backed up toilet water
The toilet has been leaking or overflowing for an extended amount of time
Water is seeping through the ceiling below
Toilet Overflow Cleanup Services in Westport, CT
When your toilet overflows causing water damage to your home or business in Westport, CT, SERVPRO of Westport/Fairfield can immediately respond to provide emergency services.
24/7 Emergency Response

Water Removal and Cleanup

Bathroom Drying and Dehumidification

Complete Cleaning and Sanitizing

Repairs and Restoration

Directly Bill Your Insurance Company
For Toilet Water Damage in Westport, CT, Call SERVPRO of Westport/Fairfield For Immediate Service