24/7 Flooded Basement Cleanup in Weston, CT
3/9/2021 (Permalink)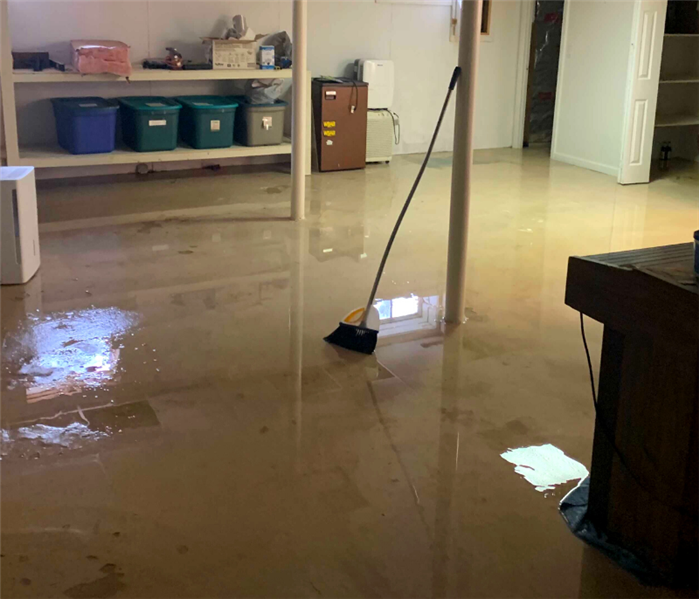 When you need basement water removal in Weston, CT - SERVPRO of Westport/Fairfield can respond 24/7.
Flooded Basement in Weston? Get Help Today!
If your basement floods in Weston, you want to take fast action. The longer there's water in your basement, the more likely it is for mold growth, unwanted odors, or even structural damages to form.
When you need emergency flooded basement cleanup near you, SERVPRO of Westport/Fairfield can provide services 24/7 for basement water removal in Weston!
For Immediate Assistance, Contact Our Office 24/7 - 203-707-1952
Professional Basement Flooding Cleanup in Weston, CT
Complete Drying & Dehumidification Services

Advanced Moisture Detection Technology

FREE Cleanup Estimates

Directly Bill Your Insurance Company
When there's water in your basement in Weston, you can count on SERVPRO of Westport/Fairfield to provide a rapid emergency response. Our immediate response is essential to help prevent further flood damage or the growth of mold in your basement.
With over 15 years of experience in basement water damage restoration near you, our team has all the training, knowledge, and resources needed to quickly restore your home or business in Weston to pre-damage conditions.
When you call us for basement flooding cleanup near Weston or the surrounding cities, our goal is to make it "Like it never even happened."
Flooded Basement Cleanup Process
The team at SERVPRO of Westport/Fairfield works hard to restore your flooded basement in Weston to pre-damage conditions. A Project Manager will create a restoration plan for your damages, but the general cleanup process is still the same.
1: Emergency Contact & Response
When you call SERVPRO of Westport/Fairfield, a representative will ask for more information about your loss to better prepare our team to respond. Once all information has been taken, our team will be dispatched to begin the damage inspection and emergency services in your home or business.
2: Basement Flood Water Removal
When crews arrive on site, they immediately begin removing the water from your basement using commercial grade water extractors and water pumps. Our flood cleanup services ensure that no water is left behind.
3: Basement Drying & Dehumidification Services
Once all standing water is extracted, commercial grade fans and dehumidifiers are set up to remove all moisture from the basement. Our team will also utilize specialized moisture detection technology to find areas of lingering 'hidden' moisture.
Additional basement water damage restoration in Weston CT may need to be completed to ensure all building materials are completely dry.
4: Cleaning and Sanitizing
Once your basement is dry, our team cleans, sanitizes, and disinfects the affected areas with an antimicrobial to ensure bacteria and mold spores are not present and prevent musty odors. If needed, we can also provide mold removal in Weston.
What To Do When Your Basement Floods in Weston, CT
When you're dealing with basement flooding, take the following steps to help prevent further flood damage until help arrives.
1. Find and Stop the Source of Water
The faster you're able to find and stop the source of water that's entering the basement, the more damages you can prevent.
Before entering a flooded basement, be sure that there are no electrical or safety hazards.
If flooding is from a water leak or burst pipe, turn the main water supply off.
If flooding is caused by heavy rains or natural disasters, do the best you can to contain flood water until the flow stops using buckets, towels, or wet dry vacuums.
2. Move Wet or Valuable Items
If you're able to safely enter your basement, move any wet, valuable, or damaged items out of the flood water. This will help the basement dry more quickly and save your belongings from extensive water damage.
4. Call A Local Water Damage Restoration Company
Unfortunately, your basement won't dry itself out and the flood water won't remove itself. Calling a flooded basement cleanup company in Weston ensures that basement water removal is properly performed, prevents mold growth, and prevents major structural damages in your home.
Common Causes of Basement Water Damage
The most common causes of flooded basements include:
Frozen, leaking, or burst pipes
Groundwater seeping through basement walls or floors
Sump pump failures or malfunctions
Clogged drainage systems
For Flooded Basement Cleanup in Weston, Call 24/7 - 203-707-1952