How To Handle Dishwasher Leak Water Damage In Your Home
3/23/2021 (Permalink)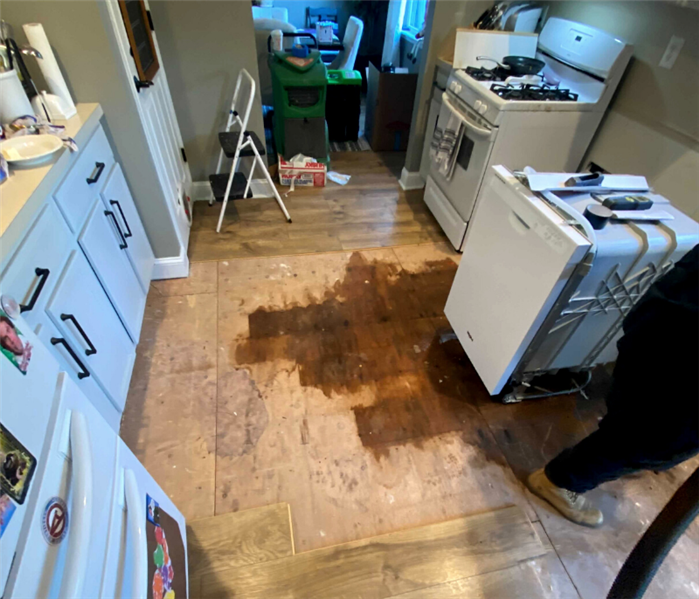 Dealing with the water damage from a dishwasher leak in Connecticut may require assistance from SERVPRO of Westport/Fairfield.
Many Connecticut households use their dishwashers every single day without a second thought about them leaking.
But when dishwashers do leak, they can quickly flood your entire kitchen and cause water to seep into cabinets and under floors. To prevent serious issues, the water damage from a dishwasher leak should be cleaned up as soon as possible.
Here, we will review what to do if your dishwasher leaks, why your dishwasher is leaking, and whether or not insurance will cover the cost of water damage restoration.
What To Do When Your Dishwasher Causes Water Damage
Even though dishwashers only use an average of 6 gallons of water per load, if water leaks while it's running you can still end up with serious water damage, especially if you don't take steps to immediately clean up the water in Fairfield County.
1. Look For Electrical Hazards
Before you start cleaning up, be sure to take a look around the kitchen to make sure water hasn't affected any electrical appliances or outlets. If you're not sure - turn off the power to your kitchen before doing anything else.
2. Clean Up Standing Water
This step should be completed as soon as possible to prevent water from the dishwasher from leaking under the floor, affecting the subflooring, and causing mold growth.
Grab any towels, mops, and buckets you may have in your home to begin soaking up water. If possible, pull out the dishwasher and other kitchen appliances to make sure you get any water that's stuck underneath them.
3. Closely Inspect Your Kitchen For Water Damage
Unfortunately, cleaning up dishwasher leak water damage isn't as easy as just mopping up some water. It's possible that water has affected kitchen cabinets, gotten underneath the flooring or caused water damage to hardwood floors, or soaked into drywall and baseboards.
You should closely inspect all of these areas for signs of moisture, bubbling, discoloration, or mold growth. If you find any signs that water damage has spread across your kitchen, you must take steps to have it all fully addressed. This may include cutting into walls, pulling up flooring, and setting up fans and dehumidifiers to ensure everything is properly dried out.
4. Call A Water Damage Company in Connecticut for Damage Inspection
If you're not certain you've gotten rid of all hidden moisture after your dishwasher leaked, you should call a local water damage restoration company to perform an inspection. Using advanced technology, these companies can detect and measure the levels of moisture in floors, walls, and behind cabinets. This allows them to create a drying plan to ensure all wet areas are completely restored in your Connecticut home.
Why Is Your Dishwasher Leaking?
There are many possible causes of dishwasher water damage in CT. With some detective work, you can likely figure out the cause of your appliance leak and whether or not you need to call a professional to repair it.
Leaky Dishwasher Door
If water is accumulating at the front of the dishwasher, this may be the culprit of your leak. Check the door latch of the dishwasher and make sure that it actually closes all the way. If you dishwasher opens too easily, it could be a sign of a faulty door latch that needs a simple replacement.
If the door latch isn't causing the leak, it may be the door gasket which essentially seals the dishwasher when you close it. Open your dishwasher and inspect the seal around the door. If you notice any rips, holes, loose, or worn out sections, you should purchase a new gasket and replace it before using the dishwasher again.
Leaky Dishwasher Tub
Over time, it's possible for the bottom of your dishwasher tub to corrode and cause water to seep out over time. If this is the cause of your leak, you should call a repairman to see if the damage to your dishwasher can be repaired. If not, you'll need to purchase a new one.
Loose or Cracked Water Supply Lines and Valves
It's always possible that hoses, water supply lines, or seals become loose or have deteriorated over time. If valves get stuck or break, they can also cause dishwasher flooding. You should check that all hoses, clamps, and valves are completely sealed and in the proper places. If they're damaged, these things can be easily replaced after taking a trip to the hardware store.
Dishwasher Isn't Level
If your dishwasher was installed improperly or shifted over time, it can cause it to leak. Find a level and place it on the bottom of the machine and adjust it as needed.
Used the Wrong Detergent
Not all soap is equal! You must use detergents or soaps designed specifically for use in dishwashers. Using regular dish soap can cause an excess amount of foam and overflow the dishwasher.
Does Homeowners Insurance Cover Water Damage From Dishwashers?
In most cases, leaking dishwasher water damage should be covered by your insurance company, but you should always double-check your policy before filing a claim to be sure.
So long as the damage from your dishwasher was sudden and unforeseen, meaning that it was a result of mechanical or plumbing issues, the damage should be covered. But, if your insurance adjuster assesses damages and your dishwasher shows signs of neglected maintenance that could've prevented the problem, your claim may end up being denied.
Filing a claim for water damage from a dishwasher is usually a good idea so that you can have a professional water damage repair company properly clean up water and dry your kitchen floor, cabinets, and other areas as needed.
Need Help With Dishwasher Leak Water Damage in Connecticut? We Can Help.
As a professional water damage restoration service, SERVPRO of Westport/Fairfield has the experience and resources needed to quickly restore your Connecticut home to pre-damage conditions.
Our team rapidly responds to inspect damages, create a specialized restoration plan, and get to work. Our goal is to make water damage from your dishwasher leak "Like it never even happened."
We Handle the Insurance Process For You!

Free Damage Estimates
Call SERVPRO of Westport/Fairfield For Immediate Assistance - 203-707-1952