24/7 Emergency Flood Clean Up in Connecticut
7/20/2021 (Permalink)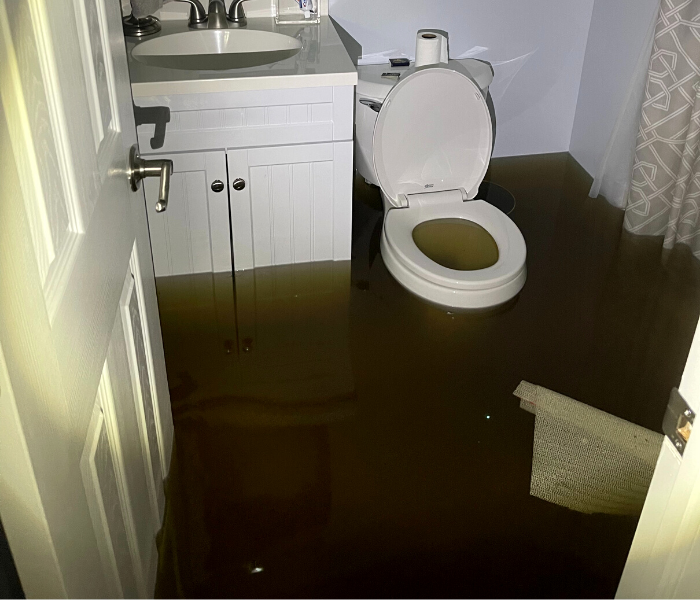 When flooding or storm damage strikes, fast action is the best defense to prevent further damages or mold growth.
Get Immediate Flood Damage Services in CT!
When flooding, rain damage, or severe storms affect your home or business in Fairfield County, CT - Immediate action is necessary. When storm damage isn't quickly addressed, flood damage can quickly spread to unaffected areas, causing structural issues, decay, and even mold growth.
The faster you take action for flood cleanup in CT, the more it is that you can minimize extensive property damage and return your property to pre-damage conditions as soon as possible.
When you need emergency flood damage restoration in CT, SERVPRO of Westport/Fairfield is Here to Help 24 hours a day.
Call Our Office 24/7 For Immediate Assistance -203-707-1952
Professional Flood Cleanup Services in Connecticut
Complete Drying & Dehumidification Services

Advanced Moisture Detection Equipment

Mold Remediation

FREE Estimates

Directly Bill Your Insurance Company
With over 15 years of experience restoring homes and businesses in Fairfield County, CT, SERVPRO of Westport/Fairfield is your local expert for flood damage restoration near you.
Our team of IICRC Certified water restoration specialists have all the training, experience, and resources needed to quickly restore your home or business to pre-damage conditions.
When you need flood damage services near Fairfield County, SERVPRO of Westport/Fairfield's goal is to make your flooding "Like it never even happened."
Flood Damage Cleanup and Restoration Process
SERVPRO of Westport/Fairfield creates a unique plan for clean up after a flood for each customer, but the general restoration process still remains the same.
A Project Manager inspects to determine what is needed for your water damage restoration services and creates a specialized restoration plan for your home or business.
2: Emergency Response (As Needed)
Our team is ready to respond to your emergency flood cleanup in Connecticut 24/7. Our team provides 24-hour emergency services to prevent mold, further flood damage, or structural issues to your property.
Using commercial grade water extractors, and powerful pumps, our team works quickly when you need assistance with standing water or flooding in Fairfield County, CT.
Using specialized moisture detection and drying equipment, our team locates and addresses all areas of "hidden moisture" which may be behind walls or underneath flooring.
SERVPRO of Westport/Fairfield takes steps to clean and sanitize the affected areas to remove dirt, bacteria, or possible mold spores. Our team can also restore water-damaged personal items.
Once the water mitigation process is completed, our team can seamlessly restore your property with our in-house construction division. This may include anything from minor repairs to major renovations and repairs
Flood Damage: Frequently Asked Questions
As your local flood damage restoration service in Fairfield County, CT, our team answers many questions about the disaster restoration process and insurance coverage.
Here, we've put together the most common questions and had our team answer! If you have a question not listed here, feel free to call our office and ask!
Is flood damage covered by insurance?
Unfortunately, flood damage due to heavy rains, natural disasters, flooding, or surging rivers or lakes is not covered under standard insurance policies. In order to have coverage to clean up after a flood, you need supplemental flood insurance or sump pump failure coverage in the common case of a flooded basement.
How long does flood damage cleanup and restoration take?
The timeline for your restoration project is dependent on the extent of your damages, the amount of time it takes to dry all building materials, and the need for additional work such as demolition or repairs.
A small project for flood damage cleanup in CT may take 3-5 days, while larger projects may take weeks. Your Project Manager will inform you of the timeline for your project.
How do you prevent mold after water damage?
Preventing mold after water leaks or flooding can be simple if you take immediate action. Mold thrives on moisture and can develop in as little as 48 hours after being exposed to water or moisture. The sooner flood restoration begins, the less likely it is for mold to grow.
Should you need help with mold in your home or business, our mold removal specialists in Fairfield County can help!
For more information about flooding, check out Connecticut's resource page here.
24/7 Flood Damage Restoration in Fairfield County, CT - 203-707-1952