Furnace Puffback Cleanup Services in Westport, CT
10/27/2021 (Permalink)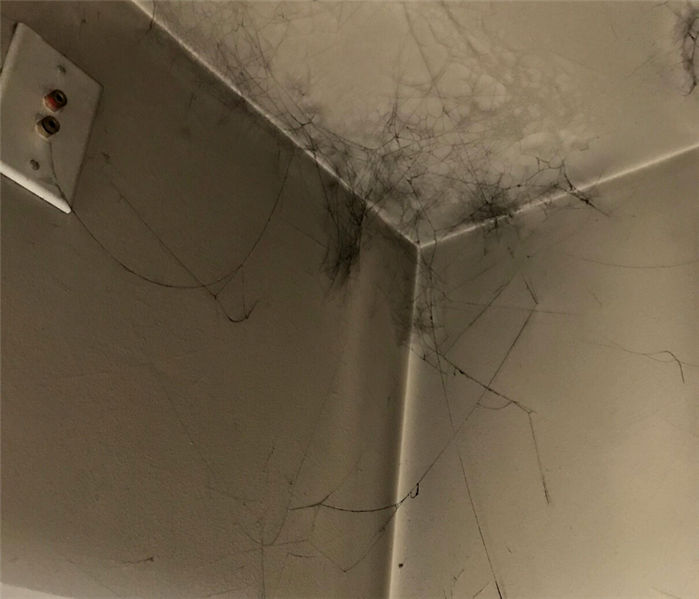 Here you can see the smoke damage on the walls and the soot webs that have formed from this puffback in Westport, CT.
A furnace puffback can cause severe soot and smoke damage across your home. Visible black soot and smoke may cover walls, floors, ceilings, and even furniture, requiring the help of a professional service for puffback cleanup in Westport, CT.
While you may want to start puffback cleaning by yourself, this isn't recommended! Regular household cleaners will not remove soot damage from walls or furniture. In fact, it may further embed soot particles into building materials, which will worsen the issue and make it more difficult to fully clean.
When you need the help of a professional puffback cleanup service in Westport, CT the smoke and fire damage restoration specialists here at SERVPRO of Westport/Fairfield are Here to Help.
Call Our Office 24/7 For Immediate Assistance -203-707-1952
Professional Puffback Cleanup in Westport, CT
We Work With All Insurance Companies

We Handle The Insurance Process

Free Estimates
With over 15 years of experience with puffback cleanup in Westport, CT, our team at SERVPRO of Westport/Fairfield has all the training and resources needed to provide the expert smoke and soot cleaning services that your home needs.
Utilizing specialized cleaning methods and materials, our team is able to completely remove soot from a puff back in your home or business. In fact, cleaning up after a puffback is very similar to cleaning up after a fire, which is an area of expertise for SERVPRO of Westport/Fairfield.
SERVPRO of Westport/Fairfield works hard to restore your property to pre-damage conditions as soon as possible. Our goal is to make your furnace puffback in Westport, CT "Like it never even happened."
What Not To Do After A Puffback in Westport
There's quite a few things you shouldn't do after a furnace puffback in your home, including: Cleaning smoke and soot yourself, scrubbing walls, or using your heating system.
But why?
Improper cleaning of soot and smoke will make the damage worse
Scrubbing soot or smoke embeds particles further into walls or furniture
Homeowners do not have the proper chemicals or materials to neutralize smoke and soot particles, meaning that smoke odors will linger
Using your heating system after a puffback can cause more soot and smoke to circulate in your home, especially in the case of a forced air heating system
SERVPRO Puffback Cleanup Process
SERVPRO of Westport/Fairfield can completely clean your home of all soot, smoke, and unwanted odors after a furnace puffback. Your property will receive a specialized soot and smoke cleaning plan.
Damage Inspection And Assessment
A Project Manager will meet you and walk through the damages on your property. Here, they will explain the clean up and deodorization process in detail, along with any timelines or important information.
Equipment Set Up
SERVPRO of Westport/Fairfield utilizes specialized smoke damage equipment such as HEPA filter air scrubbers to filter smoke and soot particles from the air, helping to remove unwanted odors.
Soot And Smoke Cleaning
When it comes to puffback cleanup in Westport CT, the team at SERVPRO of Westport/Fairfield cleans every inch of your property with specialized smoke & soot equipment, ensuring no particles are left behind.
Fabric Restoration
In this step, soft upholstered items such as furniture, clothing, or bedding will be properly cleaned by a soot damage restoration company, with the goal of recovering all of your items.
Air Duct Cleaning
To completely clean a home after a puffback which has a forced air system, this step cannot be skipped. Air ducts are what spreads soot and smoke across your home and will cause these particles to cover your home again when not cleaned. This step is also important to rid your property of all unwanted smoke odors.
Restoration
Here, any painting, damage repair, or rebuilding is performed to completely bring your property back to pre-damage conditions.
Local Puffback Cleanup Service in Westport, CT - 203-707-1952