SERVPRO of Westport/Fairfield: BBB A+ Rated
10/15/2021 (Permalink)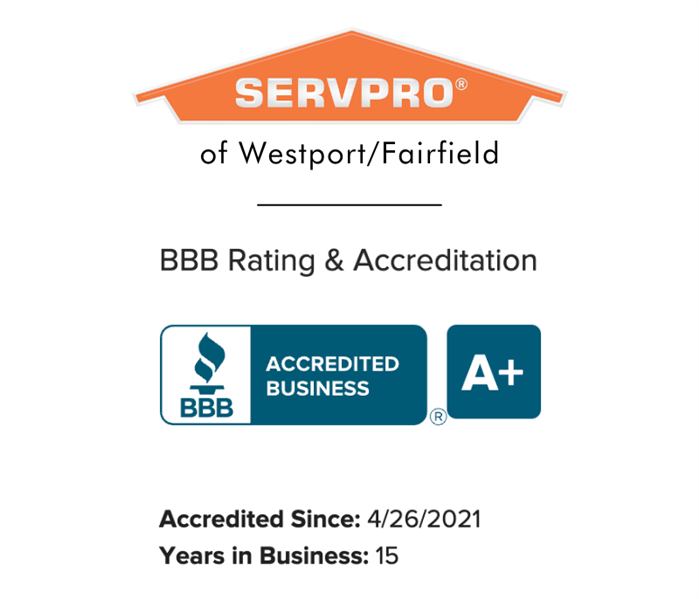 With an A+ Better Business Bureau Rating, you can trust the team at SERVPRO of Westport/Fairfield with any size disaster restoration project in CT.
Did you know that SERVPRO of Westport/Fairfield is your local BBB Accredited and A+ Rated water damage restoration company in Fairfield County?
SERVPRO of Westport/Fairfield is dedicated to providing professional, efficient services as possible to our local customers - And our rating reflects just that.
What is the BBB?
The BBB stands for the Better Business Bureau. The Better Business Bureau has been established for over 100 years to help locals find businesses, brands and charities that they can trust.
When a company is BBB accredited, it means that they support the mission and vision of the Better Business Bureau. Their dues and contributions are what allow the BBB to offer information and services to local consumers at no charge.
Lastly, Better Business Bureau is not affiliated with any governmental agencies and does not create any laws or policies.
What Do The BBB Ratings Mean?
The rating that a business receives from the Better Business Bureau represents the organization's opinion on how the business interacts with its customers. The more likely it is for a customer to have a positive interaction with the business, the higher the rating would be.
The actual rating that an accredited business receives is based on information that the BBB collects about the business and is influenced by any complaints received from the public. The BBB seeks and uses information directly from both businesses themselves and public data sources.
Your Local BBB Accredited Water Restoration Company - SERVPRO of Westport/Fairfield - 203-707-1952