Ice Dam Water Damage Repair in Westport, CT
11/15/2021 (Permalink)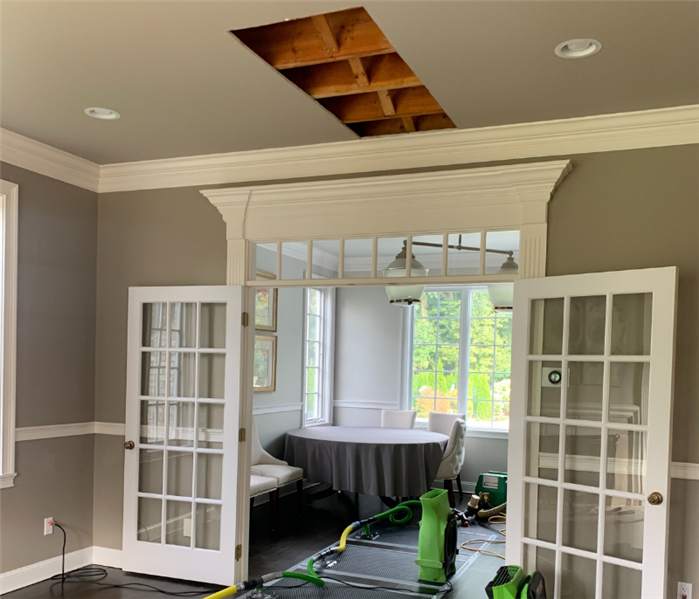 Ice dam ceiling leaks in Westport can cause mold growth and water damage to walls, floors, ceilings, and more.
When there's snow on your roof, ice dam water damage in Westport, CT is more likely than you would think.
Ice dam damage is actually one of the top 5 reasons homeowners file insurance claims during the winter, according to the Hartford Insurance Company.
When you need help with a ceiling leak from an ice dam, SERVPRO of Westport/Fairfield is here to provide immediate ice dam water damage repair in Westport, CT and the surrounding cities.
Call Our Office For Immediate Assistance - 203-707-1952
Professional Ice Dam Water Damage Restoration in Westport, CT
Complete Drying & Dehumidification Services

Advanced Moisture Detection Equipment

FREE Estimates

Directly Bill Your Insurance Company
The damage from an ice dam roof leak in Westport requires immediate attention to prevent damages from becoming worse and spreading throughout your property.
As your local water damage cleanup company with over 15 years of experience, you can trust that SERVPRO of Westport/Fairfield will provide expert ice dam water damage repair in Westport, CT.
Our team of IICRC Certified specialists will guide you through the restoration process, answer any questions, and even handle insurance for you. Our goal is to make a stressful situation simple.
When you call SERVPRO of Westport/Fairfield, our goal is to make your ice dam in Westport "Like it never even happened."
Ice Dam Water Damage Repair Process
A Project Manager inspects to determine what is needed for your ceiling leak from the ice dam in Westport and creates a specialized restoration plan for your home or business.
2: Emergency Response (As Needed)
Our team is ready to respond to your water damage emergency 24/7. Our team provides immediate emergency services to prevent mold, further flood damage, or structural issues to your property.
Using commercial grade water extractors, and powerful pumps, our team works quickly when you need fast water cleanup services to save flooring or carpeting.
Using specialized moisture detection and drying equipment, our team locates and addresses all areas of "hidden moisture" which may be behind walls or underneath flooring.
SERVPRO of Westport/Fairfield takes steps to clean and sanitize the affected areas to remove dirt, bacteria, or possible mold spores. Our team can also restore water-damaged personal items. If your ice dam causes mold, our team of mold remediation specialists in Westport can help.
Once the water mitigation process is completed, our team can seamlessly restore your property with our in-house construction division. This may include anything from minor repairs to major renovations and repairs.
Ice Dams: Common Questions
How do ice dams cause roof leaks?
These cause roof leaks because they cause water to back up underneath shingles, through the roof decking, and into your attic.
You'll end up with an ice dam roof leak in Westport if your attic is warm enough to heat the roof and melt heavy snow. As snow on the roof melts, it refreezes at the edges and creates the large ridge of ice that we refer to as the ice dam.
Once your roof starts to leak, you'll also end up with a ceiling leak from the ice dam in your Westport, CT home. This can cause water damage to walls, floors, the structure of your home, and even produce mold.
How can you prevent ice dams?
Since ice dams form when warm air gets into your attic and heats up the roof, you want to take steps to make sure that your attic, and in turn your roof, stays cool. Ways to do this include:
Better insulating your attic from your living space to keep it cool
Investing in a roof venting system, which keeps the underside of the roof cool
Using a roof rake to remove excess snow before it has the chance to form a dam
Making sure that no exhaust fans let out into the attic
Will my ice dam damage in Westport, CT be covered by insurance?
Yes, ice dam damage is covered by your homeowners insurance company. However, your insurance company will not cover the cost of removal services if they are needed.
Ice Dam Water Damage in Westport, CT? Call Today - 203-707-1952