Water Damage From Snow on Roof in Fairfield, CT
12/21/2021 (Permalink)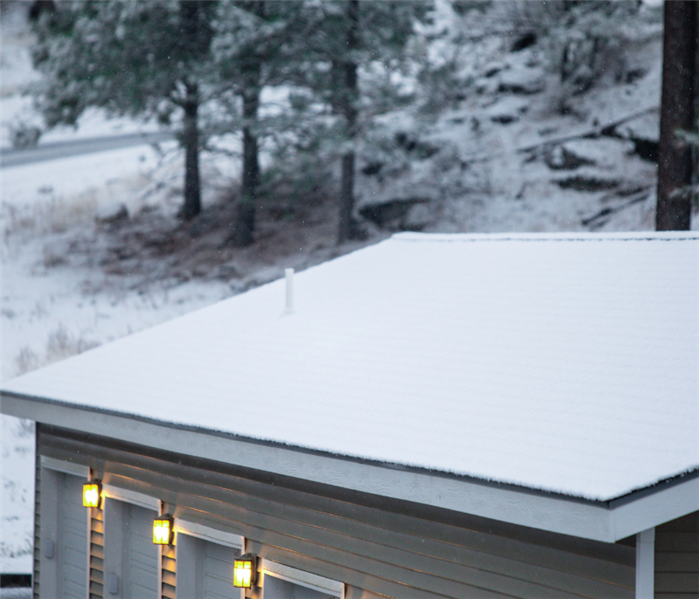 You may not expect water damage from snow on your roof in Fairfield, CT, but the issue is much more common than it seems.
Many homeowners don't know how common snow water damage in Fairfield, CT can be. Heavy snow on your roof can cause many different issues - many of which can lead to water damage and mold growth inside of your home.
Here, we'll review the top three ways how your home can sustain water damage from snow in Fairfield, CT.
How Snow Causes Water Damage: 3 Ways
Ice Dams

Roof Damage

Excessive Snowmelt
Ice Dams
Ice dams are one of the top 5 reasons homeowners file insurance claims during the winter, making them one of the top ways snow can cause water damage to your home.
Ice dams form when there's snow on your roof, and your attic is warm enough to melt the snow at the top of your roof.
As snow on your roof melts, it flows down to the edges and refreezes. This is because this area of your roof isn't warmed by the attic.
As this process repeats, it creates a large ridge of ice to form on the edge of your roof. Over time, the ice dam damages shingles and allows melted snow and ice to leak into your attic and then to your living spaces. When not promptly handled, an ice dam can cause widespread water damage throughout your Fairfield home and even cause the growth of mold.
To prevent ice dams and the subsequent damages that they can cause, you can take the following steps:
Remove fresh snow with a roof rake before it has a chance to melt
Make sure you have sufficient attic insulation and add more as needed to keep it cool
Check that no fan exhausts are discharging into the attic
Install a roof venting system which keeps your roof cool, even with a warm attic
Roof Damage
Other than causing ice dams, heavy snow can damage your roof in multiple ways.
Simply, the weight of heavy snow and ice can damage the roof structure. It may cause gutters to sag and pull away from your home, damage flashing, and in serious cases lead to a roof collapse.
While it may not seem like these issues would cause snow water damage in your home, any damage to your roof that goes unaddressed leaves your property open for roof leaks any time it rains or snow melts.
Luckily, water damage from snow on your roof in Fairfield, CT can be avoided much in the same way as ice dams. Make sure to remove excess snow, have ice dams removed by professionals, and have your roof inspected if you suspect any damage has been caused to it.
Excessive Snow Melt
Did you know that just an excess of melting snow and ice can cause water damage to your home?
If it's warm and sunny after a heavy snowstorm, the foot of snow on your roof and the ground begins to quickly melt. However, this melt may happen faster than the ground can absorb, causing groundwater levels to rise. This then puts pressure on the foundation of your home, which will allow water to seep through or flow through small cracks.
Excessive snow melt can cause water damage the same way as a heavy rainstorm. It may seem like the water is coming from nowhere, but the high level of water in the ground is the culprit.
Water Damage From Snow in Fairfield, CT? Call Now - 203-707-1952