Expert Attic Mold Removal in Westport, CT
4/19/2022 (Permalink)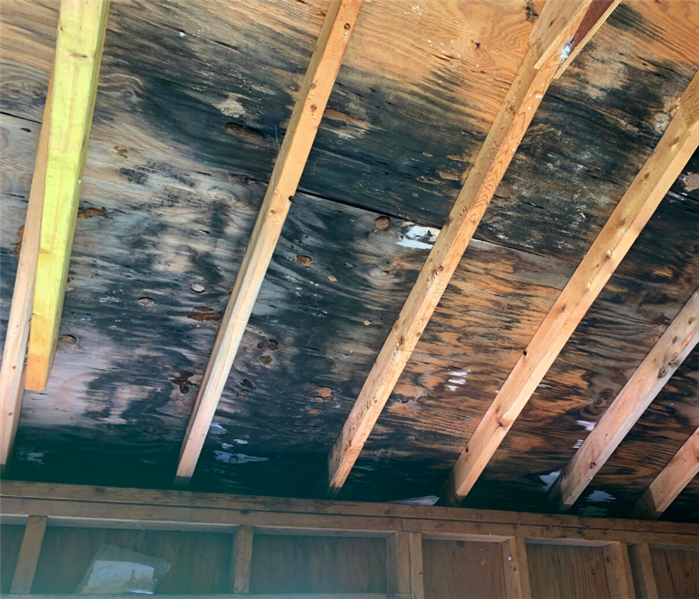 When you find mold in your attic in Westport, SERVPRO of Westport/Fairfield can provide a free inspection and mold removal estimate.
Mold in Your Attic in Westport? Schedule A Free Estimate!
If you find mold in your attic, you shouldn't be too surprised. In fact, your attic is one of the top places for mold to grow in your home! However, since most homeowners don't spend much time in their attics, the issue usually isn't caught until it becomes severe or is discovered during a home inspection.
When you need assistance with professional attic mold remediation in Westport, CT, SERVPRO of Westport/Fairfield is Here to Help!
Call Today To Schedule A Free Estimate - 203-707-1952
Common Causes of Attic Mold Growth
In order for mold to grow and spread, it needs moisture, organic matter, and warm enough temperatures. There's many things that can cause this perfect environment in your attic for mold to grow:
Improper attic ventilation
Lack of proper insulation
Leaks in heating ducts
Exhaust fans letting go into attic
High levels of humidity
Professional Attic Mold Remediation in Westport, CT
15+ Years Experience

IICRC Certified

Cleaning & Sanitizing

Free Mold Inspections

Free Mold Removal Estimates
When you find a mold problem, it should never be ignored - Even when in a space like your attic that you don't use often. This is simply because your attic mold issue will worsen over time and possibly spread into the living area of your home, requiring extensive mold removal services.
With over 15 years of experience in mold remediation services, you can trust your local SERVPRO in Westport, CT to handle any size mold removal project in your attic space. Our team of IICRC Certified technicians have the needed training, experience, and resources to quickly and properly provide attic mold removal near Westport and the surrounding areas.
When you call SERVPRO of Westport/Fairfield for attic mold removal in Westport, CT, our goal is to make the mold in your home "Like it never even happened."
Attic Mold Removal Process
Step 1: Inspection and Mold Damage Assessment
A Project Manager carefully inspects the visible mold in your attic in Westport to create a plan for removal and remediation.
Step 2: Mold Containment
The first step for proper attic mold remediation in Westport, CT is to set up mold containment to prevent the spread of mold spores to unaffected areas of your property while work is being done. This is completed by setting up physical barriers and negative air chambers to isolate the area.
Step 3: Air Filtration
Using air scrubbers, HEPA vacuums, and other filtration equipment, we remove microscopic mold spores out of the air which will prevent them from spreading to other areas of your home or recontaminate the area being remediated.
Step 4: Removing Mold and Mold-Infested Materials
Depending on the building material, mold may be removed by applying antifungal and antimicrobial treatments, or complete removal of the affected material. This step depends on the severity of your attic mold issue as to whether or not building materials are cleaned and restored, or disposed of.
Step 5: Cleaning Contents and Sanitizing
SERVPRO of Westport/Fairfield uses a variety of cleaning techniques and products to clean your furnishings and personal belongings. Since mold infestations also cause musty odors, we can also remove odors and provide deodorization using fogging equipment.
Step 6: Restoration
Depending on the level of mold damage, drywall, subfloors, and other building materials may have been removed. The restoration step gets your home or business back to normal.
Attic Mold Removal in Westport, CT - Call For Free Estimate 800-734-3213