Bathroom Water Damage Repair in Weston, CT
7/12/2022 (Permalink)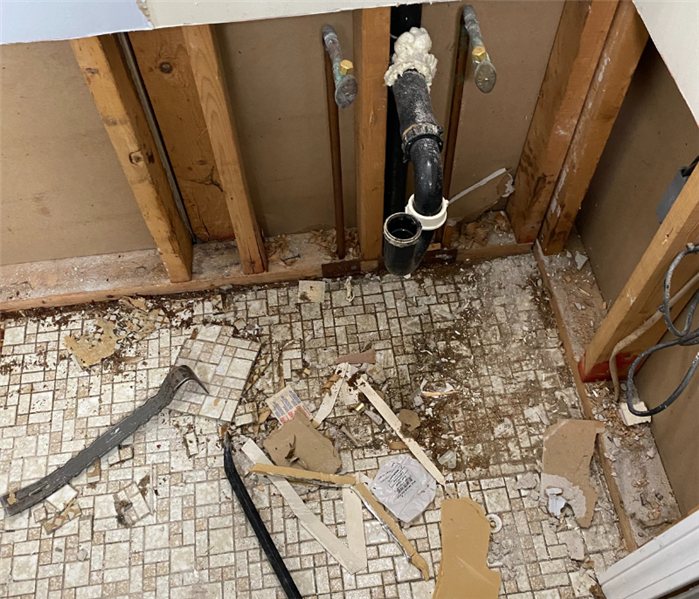 Whatever the cause of your bathroom water damage in Weston, CT, SERVPRO of Westport/Fairfield is ready to respond immediately.
Bathroom Water Damage in Weston, CT? We're Here To Help.
With various water sources and consistently high moisture levels, water damage in CT bathrooms is fairly common. If you discover signs of water damage in your bathroom, it's important to take action immediately to prevent damages from worsening and causing mold growth.
When you need bathroom water damage repair in Weston, CT, SERVPRO of Westport/Fairfield is ready to respond 24 hours a day.
Call Us 24/7 For Immediate Assistance - 203-707-1952
Professional Bathroom Water Damage Cleanup in Weston, CT
When you're dealing with bathroom water damage in your home or business, you want to call an experienced water damage restoration service in Weston that will begin the cleanup process as soon as possible to prevent mold or mildew and structural damage to your home.
As your local water damage restoration company with over 15 years of experience in bathroom water damage repair near Weston and the surrounding cities, you can trust SERVPRO of Westport/Fairfield to handle any size water damage. Our team of IICRC Certified restoration specialists are ready to respond to your call immediately with expert cleanup and restoration services.
Your local SERVPRO in Weston, CT will guide you through every step of your restoration project. Our team will even simplify the insurance process for you by directly communicating with your insurance company to submit all required documentation on your behalf.
When you need professional bathroom water damage cleanup in Weston, CT, we're ready to make your disaster "Like it never even happened."
Common Causes of Bathroom Water Damage
Shower leaks
Toilet overflows
Broken toilet tank
Bathroom Water Damage Repair Process
Although SERVPRO of Westport/Fairfield develops a unique plan for each bathroom water damage repair in Weston, CT, the general process remains the same.
A Project Manager carefully inspects your property to determine the extent of the bathroom water damage in Weston, CT. Here, they identify all areas affected to create a specialized plan for complete cleanup and restoration.
When our team arrives, they immediately begin addressing any standing water or saturated flooring on your property to help mitigate damages and lessen the likelihood of mold growth. This step is completed using powerful pumps and vacuum units to quickly remove water from your home.
SERVPRO of Westport/Fairfield uses specialized moisture detection and drying equipment to ensure any remaining traces of moisture are addressed. This step may involve removing some building materials to target 'hidden' moisture that may be trapped behind walls or underneath flooring.
Our restoration professionals use a variety of cleaning techniques to sanitize and repair all restorable items and areas affected by bathroom water damage in Weston, CT. Our team is also trained to disinfect with antimicrobial treatments and remove odors using fogging equipment.
The last step for your bathroom water damage cleanup in Weston, CT is restoring your property to its pre-water damage condition. The restoration step may involve minor repairs, like replacing drywall or flooring, or could involve major reconstruction of entire rooms in a home or business.
Get 24/7 Assistance For Bathroom Water Damage Repair in Weston, CT - 203-707-1952