Chimney Fire Damage Restoration in Westport, CT
8/30/2022 (Permalink)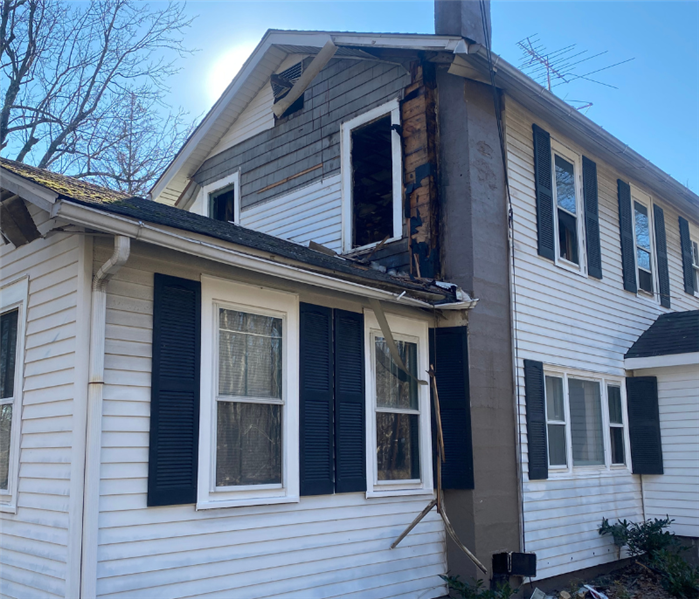 If you're dealing with chimney fire damage in Westport, CT, our team can respond immediately to begin the cleanup & restoration process.
Chimney Fire Damage in Westport, CT? Get Help Today!
When a chimney fire occurs in your home, the aftermath can be overwhelming. Chimney fires can cause extensive damages, including cracks in your chimney, melted or damaged roofing, and smoke and soot buildup throughout your property.
When you need immediate assistance with chimney fire restoration in Westport, CT, SERVPRO of Westport/Fairfield is Here to Help 24 hours a day, 7 days a week.
Call Us For Immediate Assistance - 203-707-1952
Professional Chimney Fire Restoration in Westport, CT
With over 15 years of experience in chimney fire damage restoration in Westport, CT, you can trust SERVPRO of Westport/Fairfield to handle any size damage from a chimney fire.
After you discover signs of a fire in your chimney, it's important to call a fire damage restoration company with the needed experience and resources to properly restore your home to its pre-damage condition.
As your local SERVPRO in Westport, CT, our team of IICRC Certified restoration specialists are highly trained with the equipment needed to provide expert cleanup for your fire damage. Our team even simplifies the insurance process by directly submitting all required paperwork, photos, estimates, and more.
When you need assistance with chimney fire damage in Westport, CT, SERVPRO of Westport/Fairfield is ready to make your disaster "Like it never even happened."
How Do Chimney Fires Start?
The leading cause of chimney fires is creosote buildup. Creosote is a byproduct produced from burning wood that sticks to the inner walls of your chimney, restricting air flow.
As creosote accumulates, the chance of a chimney fire occurring also increases. Because creosote is highly flammable when there is a large amount built-up, even just one spark from your fireplace can set off a chimney fire.
Chimney Fire Damage Restoration Process
While SERVPRO of Westport/Fairfield creates a unique plan for your chimney fire restoration in Westport, CT, the general process remains the same.
Step 1: Inspection and Fire Damage Assessment
A Project Manager carefully inspects all of the areas affected by your chimney fire damage in Westport, CT to create a complete plan for cleanup and restoration.
Step 2: Immediate Board-Up and Roof-Tarp Service (if needed)
Fires in your home or business can often cause broken windows, holes in the roof or walls, and more. To maintain security and protect against further damage, our team can immediately respond to help tarp or board up any gaps in the structure of your property.
Step 3: Water Removal and Drying (if water damage is present)
If needed, we can immediately begin the water removal process using powerful pumps and vacuum units to extract the majority of the water that may be leftover from firefighting efforts. We complete the drying process with commercial grade air movers and dehumidifiers to ensure all traces of moisture are completely addressed.
Step 4: Removal of Smoke and Soot from All Surfaces
Our restoration professionals use a variety of advanced cleaning equipment and techniques to remove smoke and soot residue from your property's ceiling, walls, floors, and other affected surfaces.
Step 5: Cleaning and Sanitizing
Our team cleans, repairs, and disinfects all of your restorable items and structures affected by the chimney fire. We're also trained to remove smoke odors and provide deodorization using industrial air scrubbers and fogging equipment.
Step 6: Restoration
The final step of your chimney fire damage restoration in Westport, CT is getting your home or business back to its pre-fire condition. The restoration step can involve relatively minor repairs, such as replacing a few panels of drywall, or may entail major renovations, like the reconstruction of entire rooms in a home or business.
Call 24/7 For Chimney Fire Damage Cleanup in Westport, CT - 203-707-1952