Pipe Leak Water Damage Restoration in Westport, CT
10/10/2022 (Permalink)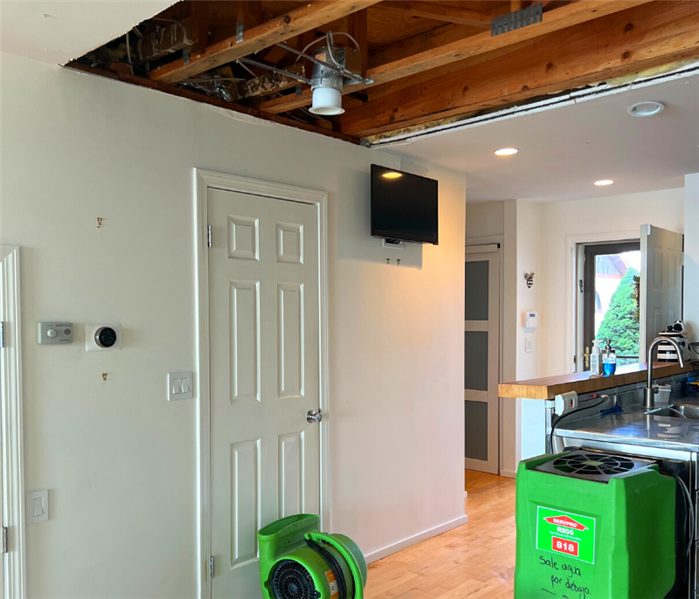 When a pipe leaks and causes water damage or flooding in Westport, immediate action is required to prevent extensive damages.
Water Damage From A Leaking Pipe in Westport, CT? Get Help Today!
Plumbing leaks can be subtle, but dangerous, when they occur inside your home or business. Even small leaks can cover your property in tens to hundreds of gallons of water per day, which can quickly lead to serious issues.
In order to prevent structural damage, electrical issues, and mold problems, you want to take swift action to repair your home after water damage.
When you call SERVPRO of Westport/Fairfield for pipe leak water damage cleanup in Westport, CT, we're ready to respond 24 hours a day, 7 days a week.
Need Immediate Assistance? Call Us 24/7 - 203-707-1952
Professional Pipe Leak Water Damage Cleanup in Westport, CT
If you discover a pipe leak in Westport, CT, you want to call an expert with the right training and supplies needed to properly restore your home or business to its pre-water damage condition.
Our team at SERVPRO of Westport/Fairfield has over 15 years of experience in water damage restoration. Our IICRC Certified restoration specialists are highly trained with the resources needed to handle any size disaster. Whatever the cause of your leaky pipe, we're ready to respond immediately with the most expert and efficient service.
We work hard to make the entire restoration process smooth and straightforward, and this includes the insurance process. Our team will directly communicate with your insurance company in order to limit any confusion or stress that could come from having to handle it yourself.
When you have water damage from a leaking pipe in Westport, CT, SERVPRO is Here to Help make it "Like it never even happened."
Common Causes of Pipe Leaks
Broken seals
Clogged lines
Damaged pipe joints
Loose water connectors
Cracks or corrosion
High water pressure
Pipe Leak Water Damage Repair Process
Your local SERVPRO in Westport, CT creates a specialized plan to properly address your pipe leak water damage, but the general repair process stays the same.
One of our Project Managers will carefully inspect your property to determine the scope of the damages. From here, they take moisture readings to identify all affected areas and create a complete plan for your pipe leak water damage cleanup in Westport, CT.
After a pipe leak in Westport, CT, your property may be covered in tens or hundreds of gallons of water. As soon as our team arrives, we quickly begin extracting the majority of the water using powerful pumps and vacuum units. This step is crucial to help prevent damages from worsening or spreading to unaffected areas.
Our restoration professionals use commercial grade air movers, dehumidifiers, and other specialized drying equipment to draw out any remaining moisture. Since water can often seep into building materials, it may be necessary to remove portions of drywall, ceilings, or flooring to address trapped moisture.
Once the drying process is complete, our team cleans and sanitizes all of your belongings and surfaces affected by your water damage from a leaking pipe in Westport, CT. Since mold growth is very common after water damage, we also disinfect with antimicrobial treatments to remove bacteria and possible mold spores. If there are any musty odors present, we can remove them and provide deodorization using air scrubbers and fogging equipment.
The final stage of your pipe leak water damage cleanup in Westport, CT is restoring your home or business back to its original condition. Our in-house construction division seamlessly takes over during the restoration step to complete any needed repairs or renovations. This may involve anything from replacing a few panels of drywall or flooring to the major reconstruction of entire rooms in a home or business.
Call 24/7 For Cleanup After A Pipe Leak in Westport, CT - 203-707-1952