Preventing Sewage Backups in Westport, CT
11/8/2022 (Permalink)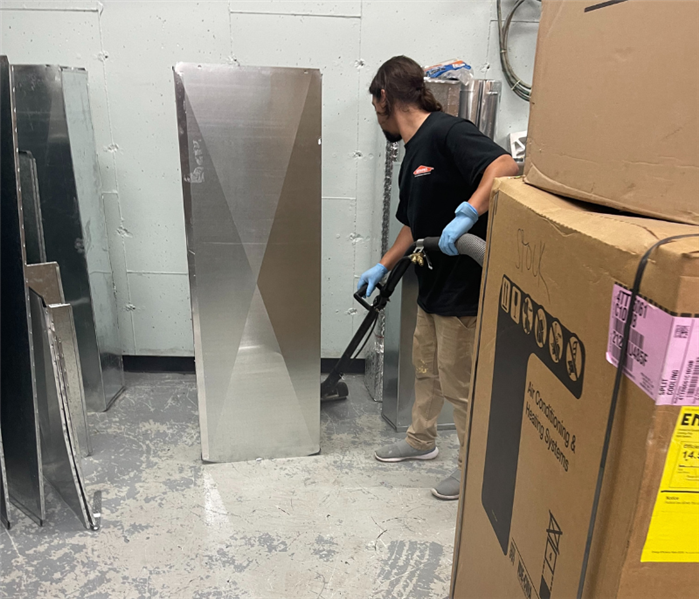 SERVPRO of Westport/Fairfield uses specialized equipment and techniques to properly clean your home or business after a sewage backup in Westport, CT.
Unfortunately, sewage backups are becoming increasingly common in Connecticut households.
When a sewage backup occurs, it can cause serious water damage and contamination that may spread to various areas throughout your property. These problems are not only dangerous but can also become very expensive.
Here, we will review why you may be dealing with a sewage backup in Westport, CT, as well as how homeowners can help prevent sewage backups in the first place.
Need Sewage Backup Cleaning in Westport, CT? Call Us 24/7 - 203-707-1952
Why Is Your Sewer Backed Up?
There are various reasons why your sewer may be backing up. The most common causes include:
Clogs in drain pipes or main sewer line
Physical damage to sewer lines
Tree roots growing into pipes or septic system
Overflowing septic tank
Heavy rains or flooding
1. Clogs in Drain Pipes or Main Sewer Line
Blockages in your home's drain pipes or in the city's main sewer line can push waste that should flow into the public sewer system back into your home.
Clogs can be caused by flushing items like diapers or sanitary napkins down the toilet. Putting grease, coffee grounds, or other solid materials down your drain can also clog your sewer line and cause a backup.
2. Physical Damage to Sewer Lines
Old sewer lines are often made of cast iron and clay piping, which are likely to break down and crack.
When sewer lines are damaged, wastewater will have nowhere to go, and most of it will build up in the line and cause a backup.
3. Tree Roots Growing into Pipes or Septic System
Tree roots are often a culprit of damaged or cracked sewer lines. Tree roots are naturally drawn to water, so if there are any small leaks, tree roots will grow towards them.
Once the tree root reaches the pipe, it can start to grow through the pipes, creating a blockage that eventually causes a backup.
4. Overflowing Septic Tank
If a septic tank becomes flooded with too much water at once, it can overflow.
An overflowing septic tank will not be able to take any more water, pushing wastewater back into the house and causing a sewage backup.
5. Heavy Rains or Flooding
When neighborhoods receive a large amount of rain, the municipal sewer system collects all of the runoff and could reach its maximum capacity.
If the municipal sewer system becomes overfilled, excess water can flow backward into your home's sewer line and cause a backup.
How To Prevent Sewage Backups in Westport, CT
There are a few steps that you can take as a homeowner to prevent a sewer backup.
Only flush toilet paper - Flushing any items other than toilet paper can damage the plumbing and local sewer or septic systems. Items such as feminine hygiene products, baby wipes, and diapers should never be flushed down the toilet.
Never wash cooking grease or oil down the drain - Grease solidifies once it cools and will accumulate in your drains or lines, eventually causing a blockage. Other solid materials, like food scraps, coffee grounds, and hair, can also clog your sewer lines and cause a backup.
Replace your sewer line with plastic pipes - The clay or cast iron piping used in older homes are especially prone to cracks. Switching to durable, plastic pipes will help protect your sewer line from becoming cracked or damaged.
Install a backwater prevention valve - Backwater prevention valves allow sewage to go out, but not come back in. Having a plumber install a backwater prevention valve will prevent backups from the main sewer line, but not from your own service line.
Need Sewage Backup Cleaning in Westport, CT?
When you're dealing with a sewer backup in your Connecticut home, it's important to seek professional assistance from an emergency cleanup service.
As your local water damage restoration company with over 15 years of experience in sewage backup cleaning near Westport, you can trust SERVPRO of Westport/Fairfield to handle any size disaster. Our IICRC certified specialists have all of the training and resources needed to provide the most expert and efficient cleaning service.
When you call SERVPRO of Westport/Fairfield for sewage backup cleaning in Westport, CT, we're ready 24/7 to make your backup "Like it never even happened."
Call Us 24/7 For Immediate Assistance - 203-707-1952