Furnace Fire Damage Restoration in Westport, CT
1/12/2023 (Permalink)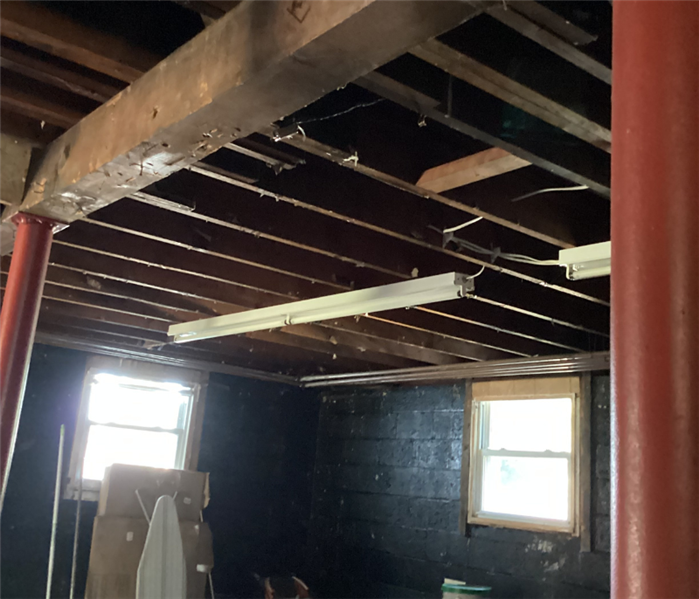 After a furnace fire in Westport, CT, SERVPRO of Westport/Fairfield is ready to begin cleanup 24/7 to make the damage "Like it never even happened."
There's nothing better than the warmth your central heating system provides during the cold, harsh winter, but your furnace requires regular upkeep to stay in safe condition.
When a furnace is poorly maintained, it could catch on fire, causing extensive smoke damage throughout your property that requires specialized equipment and solutions to properly address.
Here, we'll describe the most common causes of furnace fires in Westport, CT to help you avoid them in your own home or business.
Call Us Today For Furnace Fire Cleanup in Westport, CT - 203-707-1952
What Causes Furnace Fires in Westport, CT?
1. Clogged Air Filter
Inside of your furnace is an air filter that removes unwanted debris, like dust, pollen, and pet dander, from the air entering your home and furnace. When homeowners forget to change their air filter regularly, it can become clogged.
A blocked air filter forces the motor to run for longer periods of time, making it prone to overheating. If a furnace overheats, the blower motor may catch on fire.
2. High Gas Pressure
A furnace requires a precise combination of gas and air to generate the proper combustion for safe and efficient heat.
Low gas pressure could cause condensation inside of the heat exchanger, which could accelerate corrosion. If the gas pressure is too high, however, it can cause excessive heat production inside the furnace and may even lead to flammable soot buildup inside the heat exchanger.
3. Cracked Heat Exchanger
The heat exchanger allows the heat created by your furnace to transfer itself into the air that is forced through your home's ducts and vents. During this process, the toxic exhaust gases produced by combustion are held safely inside the heat exchanger to be later vented out of the home through the flue pipe.
Over time, heat exchangers can develop cracks that allow toxic gases like carbon monoxide into your home. Since these gases are flammable, even the presence of them in small quantities can substantially increase the chances of a house fire.
4. Flame Rollout
When flammable combustion gases build up inside of the combustion chamber without enough ventilation to provide an adequate amount of oxygen, a flame rollout can occur.
Without proper ventilation, your furnace will produce flames that "roll out" to get to the oxygen outside of the furnace.
Expert Furnace Fire Cleanup in Westport, CT
Nobody wants to deal with the aftermath of a furnace fire in Westport, CT, but that doesn't mean you can ignore the smoke and soot damage.
As your local damage restoration service with over 15 years of experience in smoke damage restoration in Westport, CT, you can trust SERVPRO of Westport/Fairfield to properly handle your furnace disaster. Our team is IICRC Certified, with the knowledge and resources needed to provide expert and efficient service throughout the entire restoration process.
When you call SERVPRO of Westport/Fairfield for furnace fire cleanup in Westport, CT, we're ready to respond immediately to make the damage to your home "Like it never even happened."
Call 24/7 For Smoke Damage Restoration in Westport, CT - 203-707-1952