Water Damage From Washing Machine Flood: What To Do
4/5/2021 (Permalink)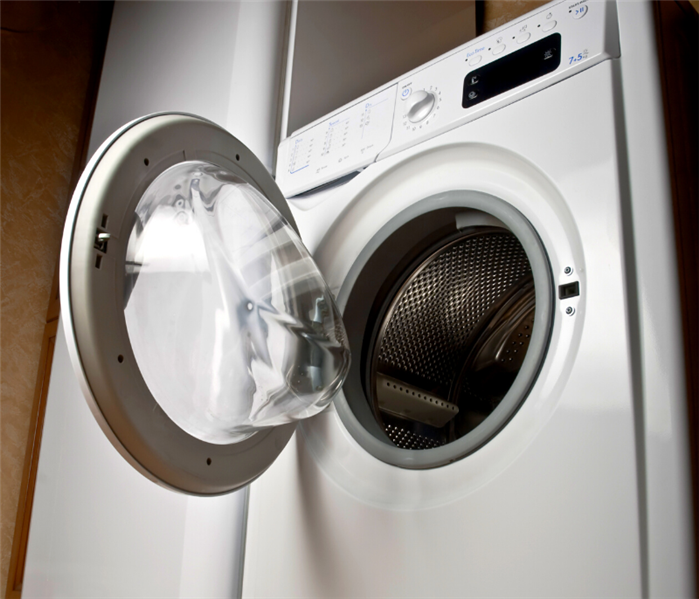 When your washing machine floods your laundry room in Fairfield County, CT, SERVPRO of Westport/Fairfield can provide immediate assistance.
Out of all the appliances in your Fairfield County home, your washing machine is one of the most likely to cause flooding or water damage. Depending on what level of your home the laundry room is located on, washing machine water damage can affect floors, ceilings, walls, and more.
When it comes to your washing machine flooding your house, immediate action is needed to prevent further damages. Here, we will outline what to do when your washing machine leaks or overflows, why they leak, and who you should call if you need professional water damage restoration services in Connecticut.
6 Steps For Washing Machine Flood Cleanup
1. Stop the Flow of Water
First, turn off the water supply to the leaking appliance. Once you've cut the water, turn off the power to the machine. This can be done by unplugging the machine or cutting the power at your circuit breaker.
Tip: Do not press the cancel button on your washing machine, as this can trigger the drain cycle which can make your flooding even worse.
2. Clean Up Water
To prevent further water damage, you want to clean up as much water you can from the laundry room floor. You can use towels, rags, mops and a bucket.
For larger amounts of water, you'll need a wet dry vacuum to make the process faster and more efficient. It's extremely important to make sure you get up as much water as possible to prevent long-term washing machine water damage.
If you can't get up all the water or see areas still soaked with water, you should call a water damage restoration company in Connecticut like SERVPRO of Westport/Fairfield. These types of professionals have the resources required to completely dry flood damaged areas and prevent mold.
3. Use Fans and Dehumidifiers
Even if you think you got up most of the water in your laundry room, you need to set up fans and dehumidifiers to make sure you get rid of lingering moisture. If you skip this step, you're likely to find a mold problem down the line.
4. Empty the Machine Drum
Once you've cleaned up the washing machine water damage in your laundry room, remember to empty out the appliance. Take out clothes, wring them out, and hang them somewhere to dry. Then, use buckets or a wet dry vacuum to remove water from the machine.
5. Call in a Professional
Depending on the cause of your washing machine flooding, you may have to replace a simply water supply hose. But, if the cause of your appliance malfunction isn't clear, you'll have to contact a professional to repair or replace the machine.
6. Inspect For Signs of Water Damage Around Your Home
You should carefully inspect the flood affected areas of your home for any signs of further water damage, structural problems, or mold growth. If your laundry room is located on an upper floor of your home, you'll likely have damages that need to be addressed in other areas of your property.
If you notice any additional damages, you should contact a local washing machine water damage restoration service in Fairfield County like SERVPRO of Westport/Fairfield for an inspection.
Why Do Washing Machines Flood?
There are many causes of washing machines flooding houses in Connecticut. The most common include:
Using too much laundry detergent can build up and cause a clog
Overloading the washing machine
Old or worn water supply hoses can leak, crack or even detach from the washing machine
Faulty water inlet valve, which controls to flow of water into the washing machine drum
You can help prevent flooding from an overflowing washing machine by performing regular maintenance and not over-filling the machine.
Washing Machine Flood Cleanup Services in Fairfield County, CT
When your washing machine overflows and causes water damage to your Connecticut home, SERVPRO of Westport/Fairfield can provide immediate assistance. Our rapid response helps to prevent further damages in your home.
As a local water damage restoration company in Connecticut with over 15 years of experience, you can be sure that SERVPRO of Westport/Fairfield can handle everything from water cleanup to restoring your home to pre-damage conditions.
We Handle the Insurance Process For You

Certified Mold Remediation Specialists
Call SERVPRO of Westport/Fairfield For Immediate Assistance With Washing Machine Water Damage - 203-601-6502